Airbrushes are one of the most versatile decorating tools around – having both the accuracy of a brush and the coverage capabilities of a spray gun. You can do all sorts of incredible things with them, so we figured we'd take a look at a few of the best.
Body Art
If you previously thought the only way you could decorate your body was using a tattoo – get ready to think again! No needles involved here, and you don't need to make the same lifelong commitment you would with a permanent tattoo.
Besides henna, most quality temporary tattoos these days are done with an airbrush. Whether it's for performance art or a costume, airbrushes give you a very easy way to cover large areas of your body with color. Stencils are also very popular – and there are a number of great designs you can download from the internet. You can read more about how to get started in this article
All you'll need to have a go at this is some specialist body art paint, which is widely available online. You can use your standard airbrushing setup – but if you are planning to cover large areas of the body then we do recommend using an air compressor with a tank.
Cake Decorating
Ever seen those amazing cakes which look almost lifelike? Well, chances are those are actually an airbrush decoration, and yes you can eat them! Airbrushing pastries and cakes as a technique has actually been around for a long time, and allows you to create all sorts of gradients, shadows and transitions you wouldn't have been able to previously.
One of the best reasons for airbrushing cakes and pastries is the flexibility it allows you. Obviously, most cakes are quite fragile, and the last thing you want to do is damage your beautiful icing job. With an airbrush however, it applies paint so gently there's little risk of damage to your handiwork. What's more, if you make a mistake, it's very easy to paint back over it and cover it up.
To get started, all you really need is some cake decorating paint. Unfortunately, most normal acrylic paints are suitable for eating!
Musical Instruments
Ever thought of unleashing your inner Van Halen? Well, as it turns out in the 1970s quite a few musicians decided they wanted to express themselves through their music and their instruments' decoration. Suddenly, many were sporting increasingly intricate designs, with everything from spiders webs to faces!
Painting an instrument is a slightly more involved affair due to the coatings and lacquers that are typically applied by the manufacturer. First you need to remove all the hardware from the instrument's body, and then sand it down extensively. Once that's been completed, then you need to give it a few coats of primer and you are ready for airbrushing. When you're done, remember to use a few layers of clearcoat to protect the design.
Mountain Bikes
Like cars and motorbikes, customizing mountain bikes has become increasingly popular. Check out this incredible design that was recently done for Jason Momoa to celebrate is performance in Aquaman.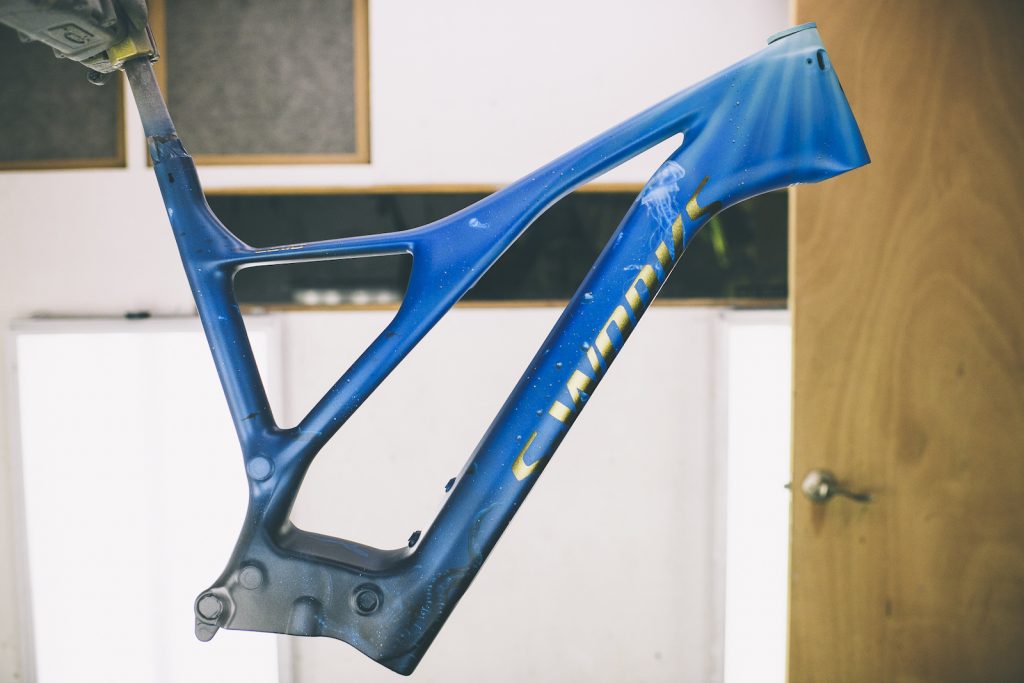 Jobs like these take a huge amount of time, and there are quite a few stages to the process. First, like an instrument, any original finish needs to be carefully removed and the frame needs to be keyed with sandpaper so it holds the paint. Paint is applied in several layers to produce the effect, using very careful masking techniques. Once the design is completed, the frames are extensively clear coated to protect them from damage. In some cases, they are almost to beautiful to ride!
Helmets
Custom painted helmets have been around for years, sitting atop the heads of athletes from ice hockey to motor racing. There are a number of specialist helmet painters out there, and the top companies can produce incredible results.
Troy Lee of Troy Lee Designs was one the first, and perhaps the most famous helmet painters out there. Having done custom work for the likes of Jeremy McGrath and Scott Russell. Jason Fowler of JLF designs is another very famous name, having painted helmets for Formula 1 champion Lewis Hamilton.
Like bikes and other outdoor objects, helmets have to be carefully primed before paint can be applied. Designs vary in detail and ambition, but all involve numerous layers and many hours in the paint shop!