In the last year, more and more Americans shifted to remote working and learning, as workplaces and schools became increasingly unsafe amidst a global pandemic. Replacing time in the office or the classroom with time at home has urged many to invest in and update their living spaces, but a full interior refresh can be costly.
With interior design trends shifting towards mixing high- and low-cost items in one space, home accessories offer a cost-effective but impactful avenue towards on-trend design. So, we wanted to know: what home decor items are people searching for, and which are the most searched in every state? 
Methodology
Using a list of 45 popular decor items available for sale at five major home goods retailers, we explored Google Shopping trends over the last 12 months for every state and the District of Columbia. We determined clear winners for the most searched home decor item in each state, the most searched item overall, and how many states searched that item the most. Read on to see what your state's most searched home decor item is!
The Most Searched Home Decor Items in Every State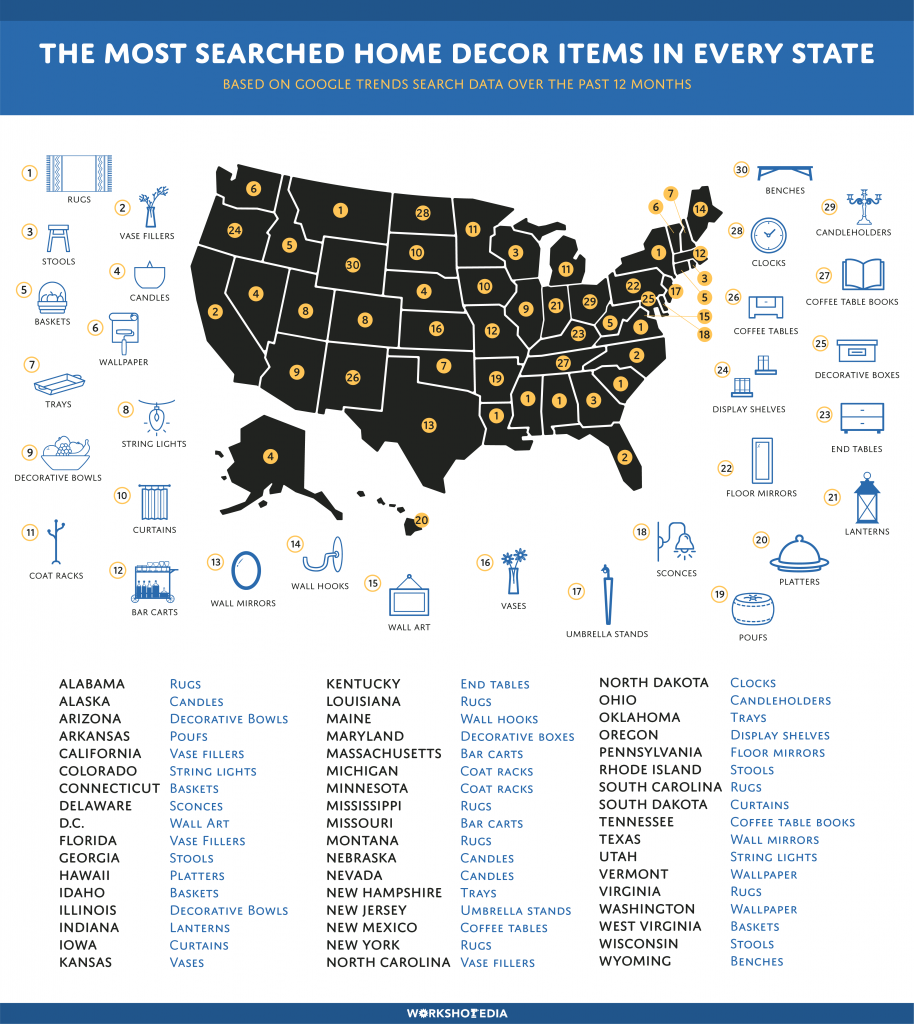 We developed a list of the most common home goods sold at each of the five major retailers included in this study, but only 30 of those items ranked first across the country. Coat racks were the favorite in Michigan and Minnesota, where winter temperatures regularly drop below freezing. Pennsylvanians wanted a head-to-toe look at themselves, ranking floor mirrors first, while Alaskans lit up long, sunless winters with candles as their most searched item. Hawaiians searched the most for platters, perhaps in preparation for the return of post-pandemic dinner parties. Vase fillers were an unexpected favorite in three states—in North Carolina, California, and Florida, flowers just aren't enough to fill a vase.
With the recent popularity of houseplants, we expected to see items like succulents, hanging planters, and even artificial plants ranking highly, but none of these items made it to number one in any state. Throw pillows and blankets are budget-friendly additions that add color and texture to any space, but these items did not rank either. It's worth noting that the items with no significant ranking, including floor lamps, picture frames, and bookends, among others, cover a range of prices and utility, so we can't draw any cost or use-related conclusions about why these items aren't highly searched. Design preferences are incredibly diverse, and the variety in our results on a state-by-state basis reflect how personal interior decorating can be. There were no distinct regional differences apparent in this study.
The Most Searched Home Decor Items in the U.S.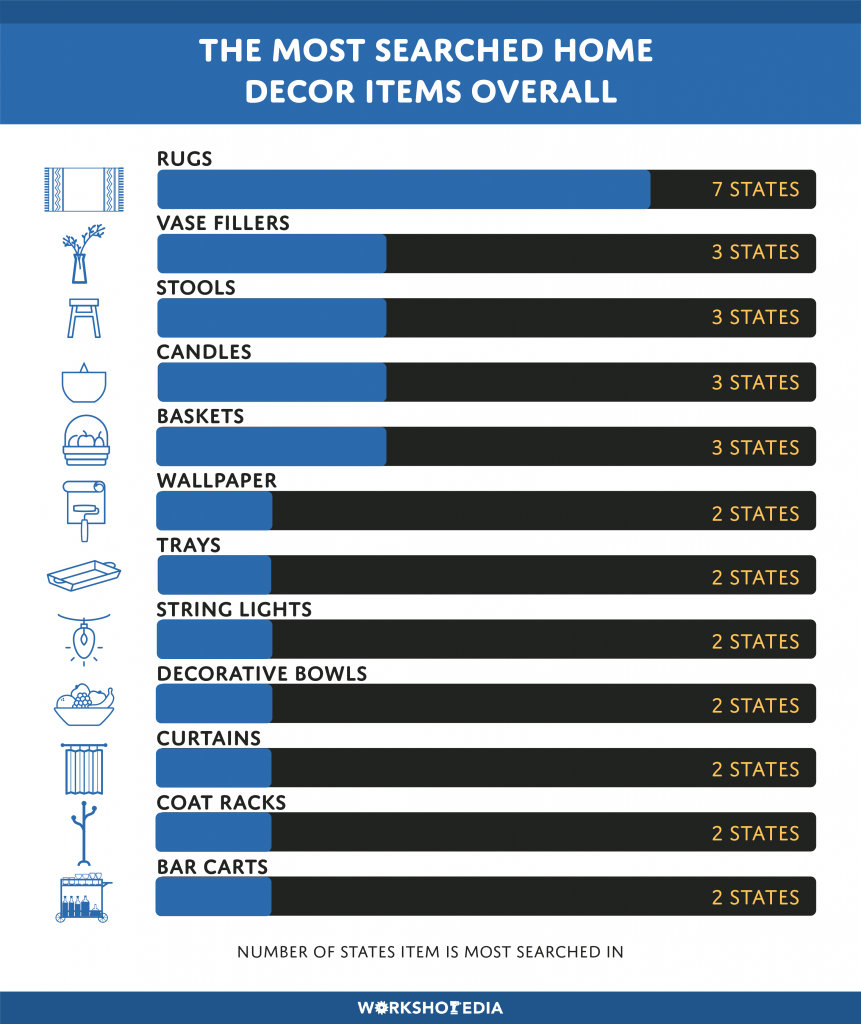 The most searched home decor item across the U.S. was rugs, ranking first in seven states. With the ongoing interest in minimalist decorating among influencers and interior designers alike, rugs offer an option for altering the look and feel of a space with a single item. Vase fillers, candles, baskets, and stools were the most searched items in three states each—all affordable options for updating a room through seating, storage, or aesthetic appeal. Seven other home decor items, including wallpaper, string lights, and bar carts, ranked first in two states each.    
Final Thoughts
Our study uncovered some of the most popular home decor items for interior updates in the U.S., according to Google Trends search data. Changes in U.S. consumer spending habits over the past year indicate only slight increases in how much Americans are investing in their homes. People seem to be purchasing items that will maximize the appeal of a space through light, color, or dimension, without breaking their budget. 

Looking to refresh your work-from-home environment while sticking to a wallet-friendly plan? Start with your home office and liven up your workdays with a statement mirror or fluffy area rug, or make sure you have a place to relax after 5 and look for string lights and candles to place in your bedroom. See what you can do with home decor items, and make the most of your home with the in-depth reviews, guides, and resources available at Workshopedia!