Putting your own mark on a rented home can be difficult. Our top 10 renter-friendly interior design hacks can help you out. Your rented space might need updating or it may just not be to your taste. Renting can be difficult as you can only do a limited amount to change the interior design.
Whatever your situation, this article is sure to inspire you with some renter-friendly interior design hacks to transform your living space. Our tips are divided up into 4 sections to help you easily find what you're looking for. These cover ideas for the kitchen, living room, bathrooms, and bedrooms. Read on for our best tips and tricks to make the most out of your rental!
Renter-Friendly Interior Design Hacks For Your Kitchen
1. Renter-Friendly Interior Design Using Stick-On Tiles 
Rented kitchens can often be bland and a bit outdated. Luckily, there are thousands of products on the market today to help you add some style to your space.
Cut-and-stick or peel-and-stick fake tiles are a great way to add a cute renter-friendly interior design touch to your kitchen. These come in a range of prices, colors, and shapes. They're also super easy to apply. You only need a measuring tape and a sharp tool to do the job.
2. Change Up Your Kitchen Flooring 
Like the stick-on tiles, there are a lot of brilliant options for stick-on flooring for kitchens. They're ideal for renters because they won't damage whatever is underneath.
You can easily find online stick-down flooring that companies have designed specially for easy application and removal in a rented space. This is an efficient and inexpensive way to cover up ugly or boring tiling or other surfaces to add your own style to your kitchen!
3. Organize Your Storage Space 
Not enough people see organization as a key element of rented-friendly interior design. Making sure your storage space is extremely functional and efficient is key to getting the most out of your rental.
Think of drawer organizers or inserts for stacking pans and trays. How about a lazy Susan for storing your spices or cans? Or maybe some boxes for tidying away pantry items? There's no end to the storage solutions available to a renter with limited space!
Design Hacks For Your Living Room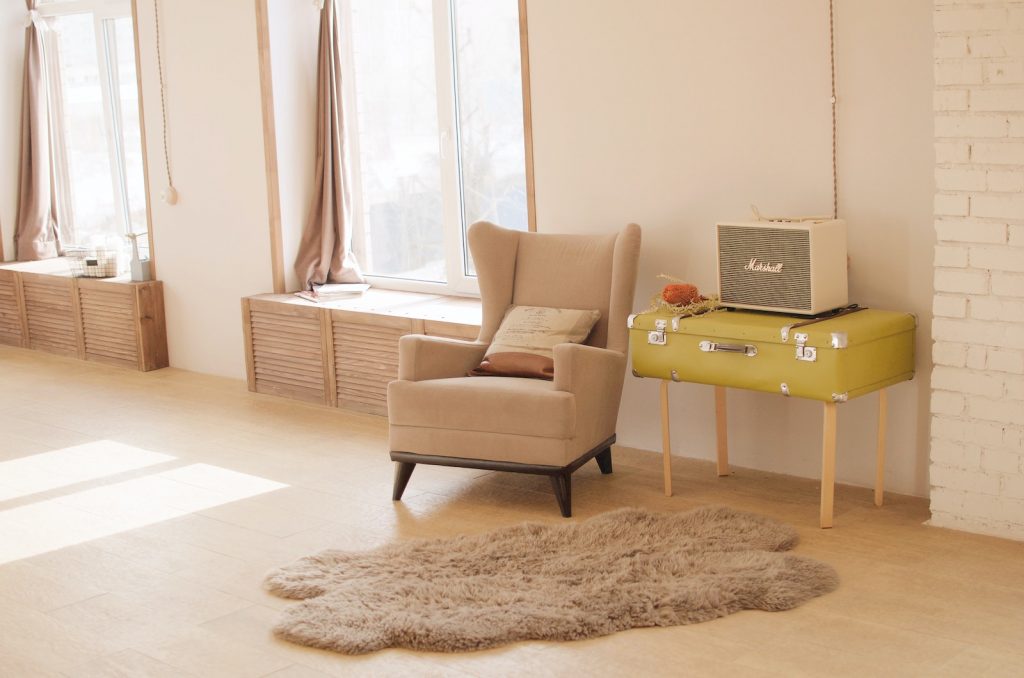 4. Play With Textiles To Show Off Your Renter-Friendly Interior Design Style
The best way you can make your living room feel cozy and like it's your own is by finding a theme of colors, patterns, and textiles to play with. This should be a relaxing space where you can chill out, watch TV, or entertain family and friends.
You could change up your curtains or blinds, or add lots of throw cushions to your sofa. Another idea is to have a fun patterned rug as the center of attention. Warm blankets and comfy footstools are also essentials for adding texture and style to a living space.
5. Create A Gallery Wall Without Damage 
Luckily for renters, renter-friendly interior design has become a lot easier with the invention of Command hooks or Command strips. These are small sticky strips attached to walls that you can use to hang frames or photos. There are other brands available, but Command is the original and the best.
Use Command strips to create a gallery wall in your living room to add a personal touch. You can play with fun art, prints, or just photos of your family and friends.
Renter-Friendly Hacks For Your Bathroom
6. Indoor Plants For The Bathroom 
Bathrooms are hard to make interesting, but one renter-friendly interior design idea is livening the space up with indoor plants. These add a bit of excitement and color to your bathroom without the hassle of changing built-in features like cabinets, mirrors, or tiles.
Pick some plants which like moisture and are suitable for the amount of light you have in your bathroom. Succulents, snake plants, and aloe vera are perfect.
7. Create A Home Spa Vibe In A Renter-Friendly Way 
What more could you want than a bathroom that feels like a relaxing spa? Making your bathroom a restful and luxurious environment will transform your rental into somewhere you love spending time.
To make your space homely and more than just a rented bathroom, add little touches like candles or wax burners, bath salts or bath bombs in jars, luxurious moisturizers, and fresh room sprays. You can even get a tray for over the bath to hold a drink and book!
Renter-Friendly Interior Design Ideas For Your Bedroom
8. Liven Up Your Space With Stick-On Wallpaper 
Accent walls or feature walls are on-trend right now but can be hard to pull off in a renter-friendly way. Luckily, stick-on wallpaper is much more readily available and cheaper today than it has ever been before.
Pick a funky color or unique print and stick away! You can add a lot of personality to your bedroom, and make it feel much more like your space this way.
9. Make Your Bedroom Feel Like A Hotel Suite 
Creating a hotel-style bed setup is a brilliant renter-friendly interior design hack. Get high-quality sheets, lots of throw cushions, big soft pillows, and throw blankets to complete the look. This will add comfort and luxury to your rented bedroom, and make it a relaxing space to spend time.
10. Make A Dressing Space 
Finally, if you have room for it, designating a section of your bedroom for a dressing space is a great way to make the most of your rental.
Using a clothes rail for your seasonal or most worn pieces, some shelving to display any bags or shoes, a hanger for jewelry, and a dressing table for doing hair and makeup will make your bedroom feel like a space for you to enjoy. This can be hard to achieve in a rental when space is limited, but if you can, it is so worth it.
Making The Most Of Your Space With Renter-Friendly Interior Design Hacks
This article has taken you through our top 10 renter-friendly interior design hacks to help you make the most out of your rented space.
Living in a rental can be hard as it can often feel like it's not truly your space. Putting your own stamp on the interior design is a struggle if your contract is restrictive or space is limited. However, our top 10 tips give some easy ideas for changing things up without doing any damage or spending too much money!