Flooring is one of the most important things to think about when building or renovating a workshop or garage. Traditionally, most workshops and garages use concrete. It's hard and resilient, and if done properly, can withstand a lot of wear and tear. However, there are some alternative options for a garage concrete floor if it just doesn't feel right for the job. 
This article will take you through the top floor alternatives for workshops and garages. To help you understand the options for your space, we'll take you through what you need to consider. We'll also give you some ideas for updating existing concrete flooring. Not everyone has the luxury of starting from scratch with building their garage or workshop!
It doesn't matter if you're a DIY beginner, or a bit more experienced. This article covers the basics, giving the rundown of the best alternatives to garage or workshop concrete flooring!
Best Flooring For A Garage Or Workshop
Garage floors need to be resilient and hard-wearing. Picking the right materials for the job is very important.
The best flooring for garages and workshops must withstand high pressure, chemicals, heat, and friction. Garage floors will have to be able to cope with high usage. Heavy cars, heat from hot tires, and even petrol or other chemical spills can damage the surface.
Workshop flooring comes with extra considerations. You'll need to work out what kind of pressures this space will be under. Does it need to support heavy machinery, such as a cabinet table saw for woodwork? Will it need to be resistant to heat and sparks if you're doing metalwork?
Although concrete workshop and garage floors are typical and useful in many ways, the problems with them shouldn't be ignored. Heavy traffic severely damages concrete over time. It will chip and crack if it's under pressure from trucks, forklifts, or even ordinary cars on a daily basis.
A whole area of concrete might need replacing if the damage is serious enough. Moreover, concrete flooring can create a very cold, uncomfortable space that is prone to damp. This will make the warehouse or garage less usable, and send heating bills through the roof!
With all of this in mind, it's time to think about the best concrete base alternatives for your workshop or garage.
What are the alternatives to using concrete Floors? 
Building your garage or workshop from scratch gives you a lot more freedom with your concrete floor alternatives. The number of concrete base alternatives on the market is increasing. You have less options if you are working with an existing concrete surface. There are definitely options to improve it, however.
Concrete Base Alternatives
Concrete is bad for the environment. The construction industry has come up with some great concrete base alternatives made with more green materials.
Green Concrete Flooring Options
These include HempCrete, a concrete material made from hemp plants.
AshCrete is another option. It's made up of fly ash, a byproduct of the coal industry.
These substances are more lightweight than concrete and created from sustainable materials or industry byproducts. They are much better for the planet than traditional concrete. Altogether, they are known as Green concrete.
So, researchers are finding lots of great concrete base alternatives. These are usually much more environmentally friendly. Being a lot more expensive and less easily sourced than standard cement-based concrete, however, Greencrete isn't always the best option.
Instead, you can opt for other materials for your garage base. Traditional wood foundations can still be used, but it is challenging to maintain. Rot and insect infestation are common problems with timber foundations, and it is not as hard as concrete.
Concrete Slab Alternatives
Instead of pouring a solid concrete floor, concrete slabs can also be used. These provide a long-lasting ready-made solid base, without the hassle of pouring a full floor on-site.
You might even want to consider granite slabs as a concrete slab alternative.
Specific Workshop Floor Alternatives
Workshop floor alternatives are more difficult to find. A workshop floor often needs to be even stronger and more resistant than garage flooring. However, some companies have come up with workshop floor alternatives.
Resin Flooring
These include cast resin flooring, pioneered by the Dutch company EPI. These are easy to clean, resistant to heat, water, wear, and chemicals, and are much more low-maintenance than concrete.
So, if you're starting from scratch you have a few good choices for your alternative to concrete flooring!
Updating Existing Garage Concrete Flooring 
Updating an existing concrete floor instead of creating a concrete base is a bit more challenging. There are lots of ways to improve what you've already got, without the need to start all over again!
Your space can be improved by off-the-shelf solutions like rubber matting if the surface is of a decent standard already. Rubber matting can create a more durable, anti-slip surface for a garage or workshop, making it more sustainable and versatile. Although useful, these mats can be heavy to move and hard to clean under.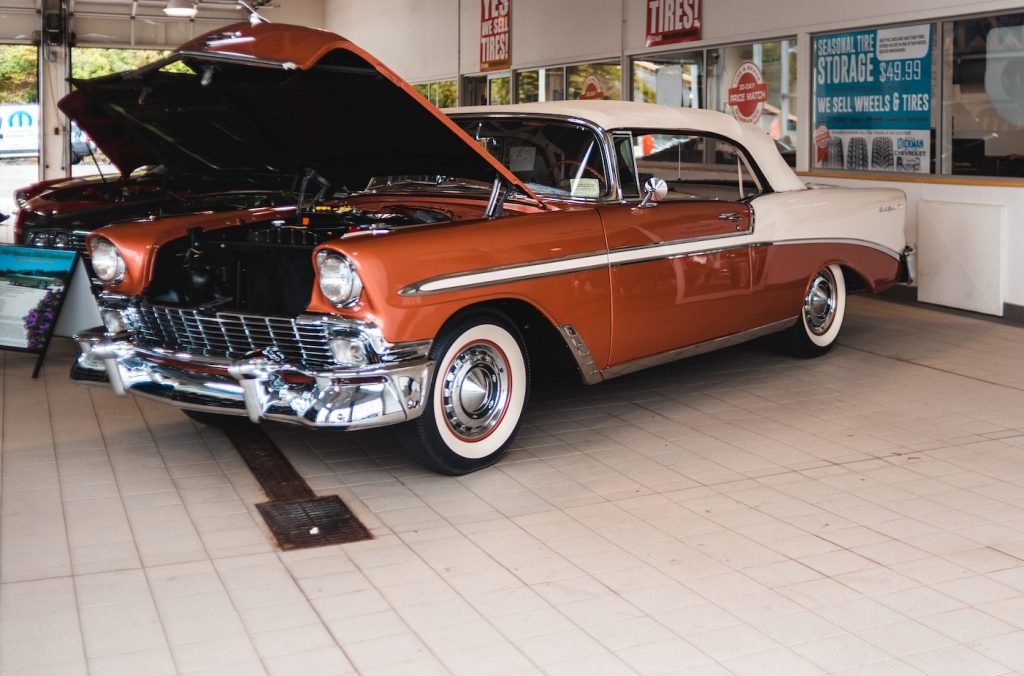 PVC Tiling Flooring
Alternatively, interlocking PVC tiling is a new, exciting option. Tiling is removable in parts, making repairs easy. They're much more aesthetically pleasing than concrete and keep warehouses warmer in the winter months. They withstand high traffic and are very resistant when it comes to friction, heat, moisture, and chemicals. A bit more expensive than rubber matting, but a much better investment in the long-term!
Epoxy Garage Flooring
Epoxy flooring is a great option and is gaining more popularity in recent years. It is a hardy, long-lasting coating usable on any surface, from concrete to stone slabs. Epoxy comes in a host of different colors and is easy to clean. It does require a bit of skill to apply, however, so isn't great for DIY beginners.
Alternatively, there are plenty of new paints and coatings for a concrete workshop and garage floors. Epoxy coatings are up there with the best flooring for garages and workshops. It is generally very cost-effective and can come in anti-slip and resistant formulations. Using paint to finish your concrete floor is a great money-saving option. However, you will want to look at the more expensive, long-lasting options for larger professional workshop spaces.
Conclusion
You've got a number of options for the best flooring for garages and workshops available to you. Picking the right flooring to withstand types of usage your workshop or garage will experience should guide your choice.
Most importantly, take your time to weigh up the different products on the market. You want your workshop or garage flooring to be a long-lasting, ideal space for you!