UPDATE: THE CONTEST IS CLOSED!
Our winner is Richard Flesher! Check out his winning DIY Masterpiece photo below: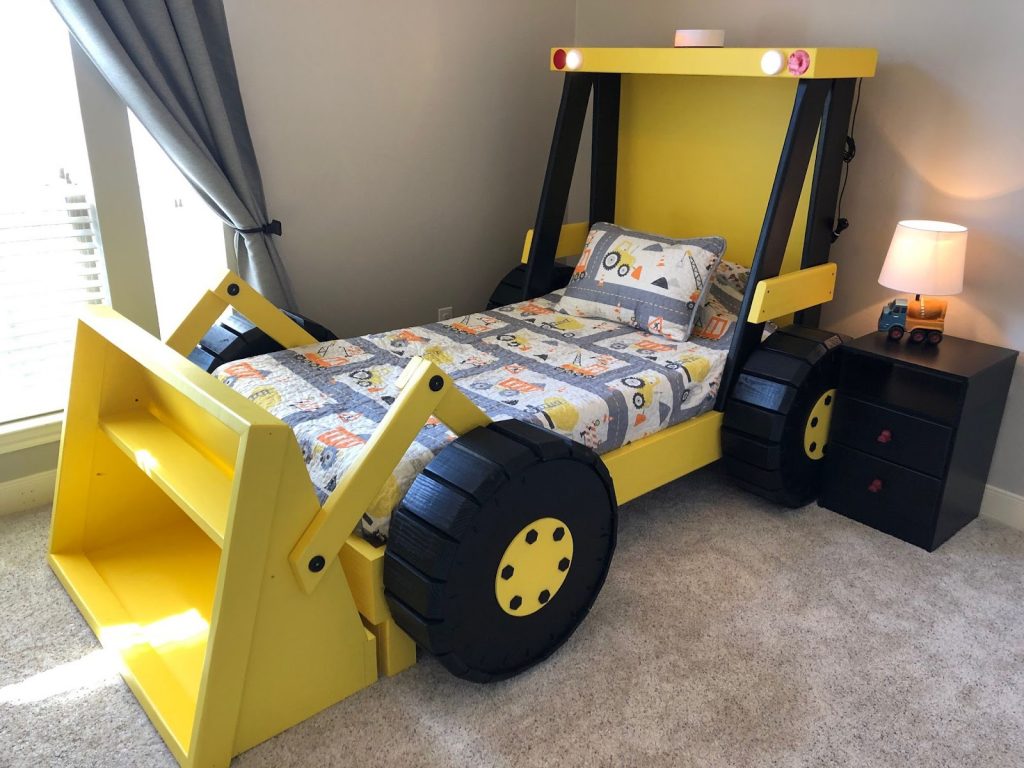 Here's the story behind the project, according to Richard:
"I made a bed for my son Cameron. His brother just arrived a few weeks ago, and he will soon be moving into his new room and we wanted him to be excited about that!
I used lumber purchased from Home Depot, various bits and bobs purchased from Etsy and Amazon to add lots of fun details – e.g. reflectors, lights, and an orange revolving safety light on the top. A section of tread can be removed from the front wheels to access secret storage cubbies, and the bucket in front holds all his trucks (ok …most of his trucks) and stuffed animals.
I built it over the course of about 9 weeks. I had so much fun, and hope he (and his brother) get to enjoy it for many years. I may have to build another one in a few years so they can both sleep in their digger beds."
Thank you to everyone who entered, and congratulations to Richard. We absolutely loved to see how the digger bed came together!
Summary
Whether it's refinishing a dresser or an at-home plumbing project, we all go into DIY projects with the best of intentions. Sometimes, the results are stellar, and sometimes, these projects don't quite pan out the way we anticipate. As home project experts, Workshopedia knows how much goes into taking on a DIY project for your home.
That's why we're thrilled to announce the launch of our first-ever DIY: Home Improvement Masterpiece Photo Contest where contestants can showcase photos of their best home DIY projects for a chance to win $1,000.
What we're looking for
We're looking for the best photos of DIY home projects that America has to offer! What counts as a DIY project, you ask? If you did it yourself, and it's for a home or garden project, it counts. It could be a shelf, an outdoor shower, a planter, you name it! We welcome highly creative, stylized photos of anything you've built or created for your or someone else's home or yard.
For the photo contest, either snap a new picture of a project in your home or send us an existing photo from your camera roll.
How to enter
Contestants must be 18 years or older and a U.S. citizen or permanent resident to apply. Additionally, contestants may only submit one photo per person for this contest.
To enter the contest, contestants MUST FOLLOW THE LINK BELOW to the entry form where you'll be asked to upload your photo. The page also requests your name and email address, so that we can notify the winner, once one has been selected.
Any contestants who do not complete the entry form by following the below link will not have an official entry into the contest.
The deadline for contest submissions is Friday, July 16, 2021. Contestants will need to submit their photos via the below link by that date in order to be considered. After this date, no further entries to the contest will be permitted.
Submit your best photo of a DIY Masterpiece!
What you will get
There will be one winner of the contest. The winner will be announced on Friday, August 6, 2021. The winner will receive a $1,000 payment!
Contest terms and conditions
The rules of the competition and the prize for the winner are as follows:
The promoter of this competition is Workshopedia.com whose principal office is located at Thomas House, 84 Eccleston Square, London, SW1V 1PX.
Employees of Workshopedia.com or their family members or anyone else connected in any way with the competition or helping to set up the competition shall not be permitted to enter the competition.
Persons must be at least 18 years old, or otherwise have reached the age of majority under the laws of the state where you reside, in order to participate.
Only residents of the United States are eligible to participate.
VOID WHERE PROHIBITED.
There is NO ENTRY FEE AND NO PURCHASE NECESSARY TO ENTER THIS COMPETITION. Any purchase or consideration otherwise given by entrants will not improve one's chances of winning.
The route to entry for the competition and details of how to enter are available via www.workshopedia.com. Individuals may enter to win by clicking on the participation link on Workshopedia.com's website. Upon clicking the participation link, entrants will be asked to provide their name and contact information so that Workshopedia.com can notify the winner of the results.
The closing date for entry will be July 16, 2021. After this date, no further entries to the competition will be permitted.
Only one winner will be selected from the entire pool of eligible entries. The selection process will be at the discretion of Workshopedia.com.
The winner will be notified by email and/or letter within 15 days at the closing date. If the winner cannot be contacted or does not claim the prize within 2 days of notification, we reserve the right to withdraw the prize from the winner and pick a replacement winner.
Workshopedia.com will notify the winner when and where the prize can be collected.
The winner agrees to the use of his/her name, image, and video in any publicity material. Any personal data relating to the winner or any other entrants will be used solely in accordance with current federal and state data protection legislation and will not be disclosed to a third party without the entrant's prior consent.
The winner's name will be available 28 days after the closing date by sending a stamped addressed envelope to the following address: Workshopedia.com, Thomas House, 84 Eccleston Square, London, SW1V 1PX
Workshopedia.com's decision in respect of all matters to do with the competition will be final and no correspondence will be entered into.