Over the course of the pandemic, many of us have gotten just a little sick of our homes.  Due to quarantine, once-overlooked loose floorboards are now daily annoyances and a cluttered patio seems like wasted space. 
Fueled by these little annoyances, so many people have decided to invest in home renovations. Looking at Google Trends alone, we see that search queries for the term "home renovation" in June 2020 were the highest they've been in the past five years. And yet, with everyone scrambling to get remodels scheduled, contractors and designers have become increasingly hard to find. The increased demand for materials has made home renovations more expensive than ever. In fact, NPR recently reported that the price of lumber has roughly tripled since last year.
At Workshopedia, we are all about empowering individuals to take on their home DIY projects. But we know that sometimes, it's best to have a professional come in and make sure jobs are done correctly. That made us wonder: during this high-demand time, where in the U.S. can individuals most easily and affordably access the professional home renovation services they need?
How We Did It
We decided to analyze the best cities in the United States to do a home renovation right now. In order to determine the top cities, we compared 44 of the largest U.S. metropolitan areas across nine key criteria.
Each of the nine indicators were graded on a 5-point scale, with a score of 5 representing the most favorable conditions. We determined each city's total score from the total of its individual factor scores, which were weighted according to their impact on the ease and affordability of a home renovation. The sum of these weights is 10, which creates a total possible city score of 50. Each is listed below with its respective weight and data source.
After collecting our data and calculating each city's score, we analyzed the results to determine the best U.S. cities for home renovations.
The Best U.S. Cities to Do a Home Renovation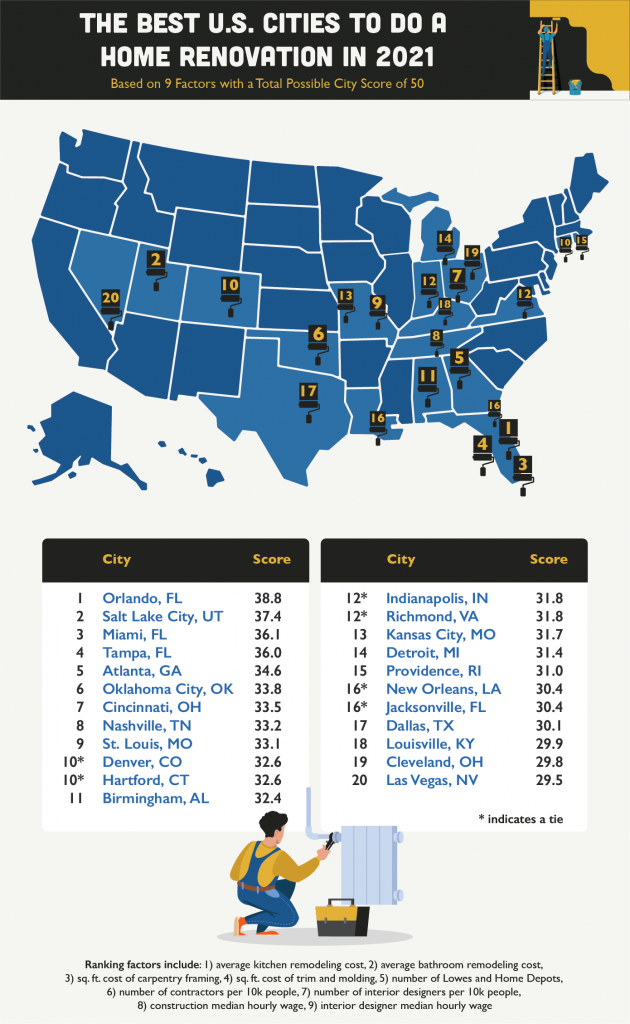 The best city to do a home renovation went to Orlando, FL which scored 38.8 out of a possible 50 points. Orlando is a place where residents are no stranger to continuous home renovations, thanks to seasonal weather that makes home upkeep necessary and a social scene that makes home renovation an exciting way to keep home entertainment fresh.
The main factors that contributed to Orlando's top scores were its low local costs for projects like carpentry framing ( only $22.81 per square foot!) and kitchen remodels (around $18,440). 
Just behind Orlando was a wildly different city in terms of homestyle: Salt Lake City. In Salt Lake, a high number of local hardware stores like Lowes and Home Depot, and low costs of construction work led to a high cumulative score of 37.4. Other top cities included Florida municipalities like Miami and Tampa.
Generally, there was wide geographic variability in these best cities for home renovation, with top cities spanning from Denver to Richmond. However, Northeastern and Northwestern cities were generally lacking from the top 20 cities, with Hartford, CT offering a notable exception.
The Worst U.S. Cities to Do a Home Renovation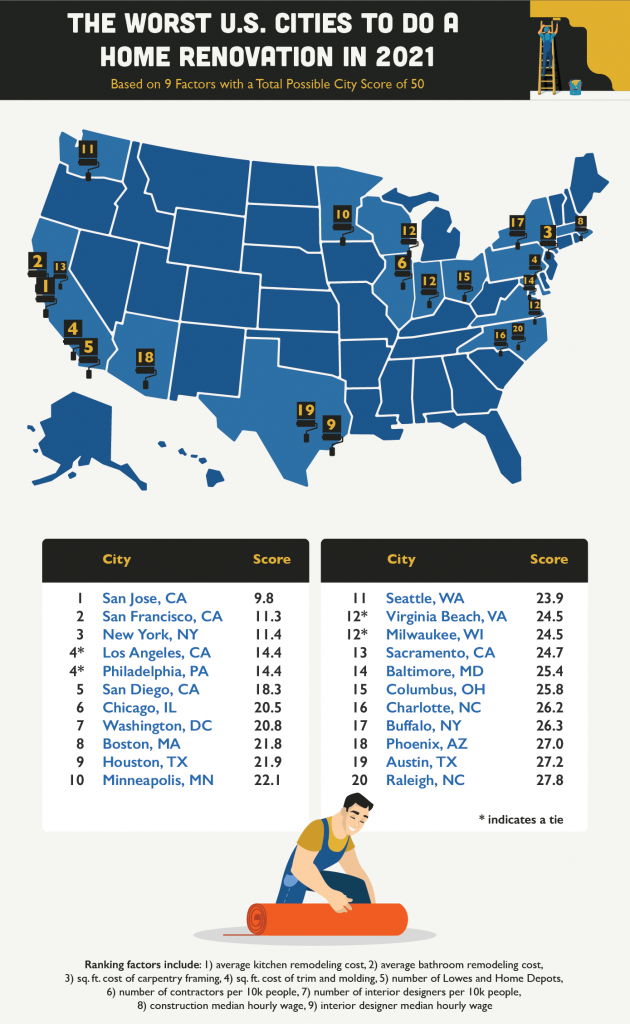 Next, we decided to look at the flip side of things and analyze the worst U.S. Cities to do a home renovation right now. 
At the top of this list was San Jose, CA, which scored only 9.8 out of a possible 50 points. What makes San Jose such a bad place to take on a home renovation? It turns out that a combination of factors led to the low score.
Why did San Jose come at the top of our worst U.S. city for home renovations?
For starters, San Jose has some of the highest wages for interior designers and construction workers, which likely equates to hefty prices for renovation projects. Similarly, San Jose has some of the lowest numbers of interior designers and contractors per 10,000 people, making scheduling a renovation professional nearly impossible. On top of hiring professionals, project costs counted against San Jose's scores. An average kitchen remodel in San Jose costs $45,042, the most expensive rate in the country. 
Other cities that made the bottom of the list were more California locales like San Francisco and Los Angeles, as well as Northeastern cities like New York City, Boston, and Washington, D.C. Frustratingly, in some of these cities, where rent and mortgage are among the highest in the country, individuals may just have to try to carry out affordable home renovations on their own. 
Conclusion on Home Renovations in the U.S.
Altogether, we gained some powerful insights about the state of home renovations across the U.S. in 2021. We found a huge range in affordability and feasibility in different cities, with scores ranging almost 30 points on a 50-point scale. We also found that cities in the South had greater scores overall. While cities on the West Coast and in the Northeast are among the worst for home renovations at the moment. 
Regardless of where you live, it is possible to do some home renovations on your own. However, being well-informed on different projects, tools, and renovation styles will make or break your home renovation. 
Tips to Ensure Your Next Home Renovation Goes Smoothly!
At Workshopedia, we hope to ensure that home renovations go smoothly. To help with all your DIY needs, we've built a plethora of guides and resources for home renovations. From home design ideas to tool reviews for your own personal workshop.
No matter where you live, check out our resources and guides so that you can make the most of your home. No matter how long we all are stuck, there is always DIY that can be done!