If there's one universal truth, it's that ice cream can make any situation better. This sweet, frozen dessert is attached to some of the best moments in life. From hangouts with friends to the nostalgic joy of licking away a chocolate ring from around your lips, ice cream is an unmatched reminder of childhood happiness.
Generic pints of ice cream are suited for some situations, like curing the post-breakup blues from under a fountain of tears. But we ice cream connoisseurs know that nothing from a grocery store can compare to the freshly-made goodness found at a local ice cream shop.
At Workshopedia, we pride ourselves on our ability to give you the best reviews possible. So, we were inspired to get the scoop on the best cities for ice cream lovers. Read on to see the best cities we found for satisfying that sweet tooth!
Methodology
To determine the best cities for ice cream lovers, we weighed multiple ice cream-related factors and calculated a score for each city based on those factors. The highest possible city score was 25.
The factors are listed below with their respective weights and source data:
Number of Ice Cream Shops (Per 100k People)
Weight: 1.5 Source: Yelp
Average Ice Cream Shop Rating
Weight: 2 Source: Yelp
Average Cost Rating for Ice Cream
Weight: 1.5 Source: Yelp
The 10 Best Cities for Ice Cream Lovers, Ranked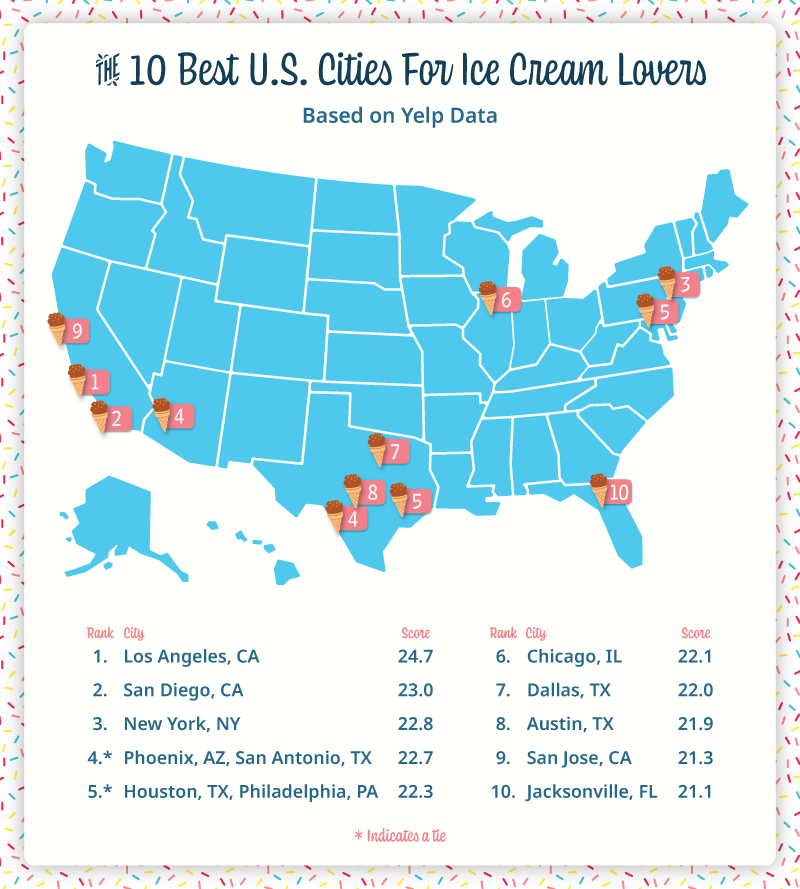 Just like the cherry on an ice cream sundae, Los Angeles is the cherry on top of our list of the best cities for ice cream lovers! The City of Angels ranked number one, with an impressive score of 24.7. Following closely behind with a city score of 23 is San Diego, California. It looks like Californians have plenty of frozen options to beat that west coast heat!
In third place, with a city score of 22.8 is the ever-fabulous New York City—though, maybe 'the Big Apple' isn't the best food-related nickname for the city anymore! Other notable cities for ice cream lovers include Phoenix, Arizona (22.7), San Antonio, Texas (22.7), Houston, Texas (22.3), Philadelphia, Pennsylvania (22.3), and Chicago, Illinois (22.1).
Notably, nearly half of the top 10 best cities for ice cream lovers belong to the Lone Star State: San Antonio, Houston, Dallas, and Austin. Everything really is bigger in Texas!
The 10 Worst U.S. Cities for Ice Cream Lovers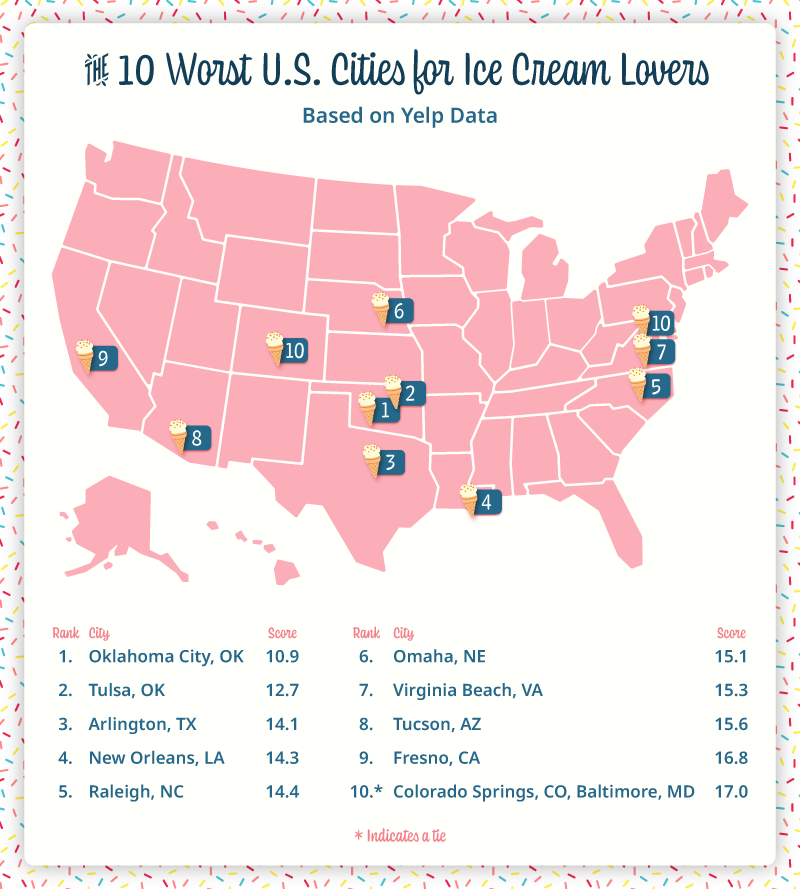 If you have a soft spot for soft serve, you'll want to avoid these cities. Oklahoma City takes the title of the 'Worst City for Ice Cream Lovers', with a low score of 10.9, and the following suit is Tulsa, Oklahoma, with a city score of 12.7. It's a bad time to be an ice cream fanatic in Oklahoma!
Other places that earned a spot on the list of the worst cities for ice cream lovers include Arlington, Texas, New Orleans, Louisiana, Raleigh, North Carolina, and Omaha, Nebraska.
Top Cities by Various Factors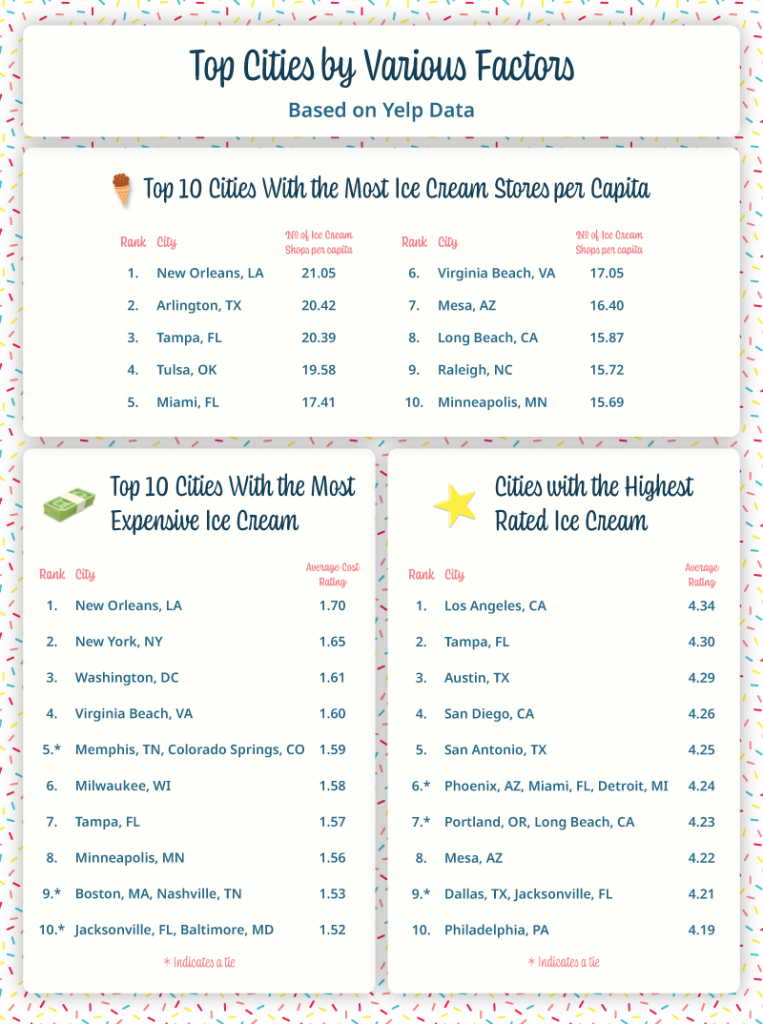 If you find yourself perusing the streets of New Orleans in search of ice cream, you should have no trouble finding an ice cream shop, but be prepared to dish out some extra cash. New Orleans has the most ice cream shops per capita (21.05) and also the highest ice cream prices, with an average cost rating of 1.7.
California and Texas cities, once again, dominate the list of cities with the highest rated ice cream. The City of Angels must be home to the most heavenly ice cream, as Los Angeles has an average ice cream rating of 4.34. The Eastern U.S. seems to be lacking in the ice cream department, as Florida is the only state with cities to make this list. Tampa and Miami both earned spots in the top ten cities with the highest-ranked ice cream, with average ratings of 4.3 and 4.24.
Final Thoughts
Some cities are better suited for ice cream lovers than others. It seems that Los Angeles, San Diego, and New York City are the ideal spots for getting that much-needed ice cream fix– and for beating the summer heat.
Treat yourself this summer. Check out our outdoor how-to's and resources to make the most of your time spent outside.