Interior design is a major industry in the United States. Whether you're a dedicated fan of Fixer Upper or you've been obsessed with Bobby Berk's designs since Queer Eye dropped on Netflix, celebrity interior designers are a major presence in the media world.
These designers have created massive empires of TV fame, multiple product lines in major retailers across the country, and profitable social media advertising strategies, to name a few.
But there are only a few at the very top, and we wanted to know: which interior designer is ranked the MOST successful in the U.S. today?
We decided to run the numbers to see which American interior designer tops the charts.
Methodology
For this study, we ranked 21 popular interior designers in the U.S. according to 8 factors that are indicators of their success, such as net worth, product lines, and TV appearances. Originally, we compiled data on the following factors for 26 top designers as listed by Architectural Digest. We removed designers who did not work primarily in the U.S. or did not have data available.
Ranking Factors
Our ranking factors, their respective weights, and sources:
We then inputted the data into a dynamic ranking formula that compared each data point to each factor's full dataset and assigned it a factor score. Each data point's factor score was then weighted and compiled to create an overall ranking for each designer that ultimately determined which famous interior designer is the most successful in the United States.
You can see the results below!
The Top 10 American Interior Designers in the U.S.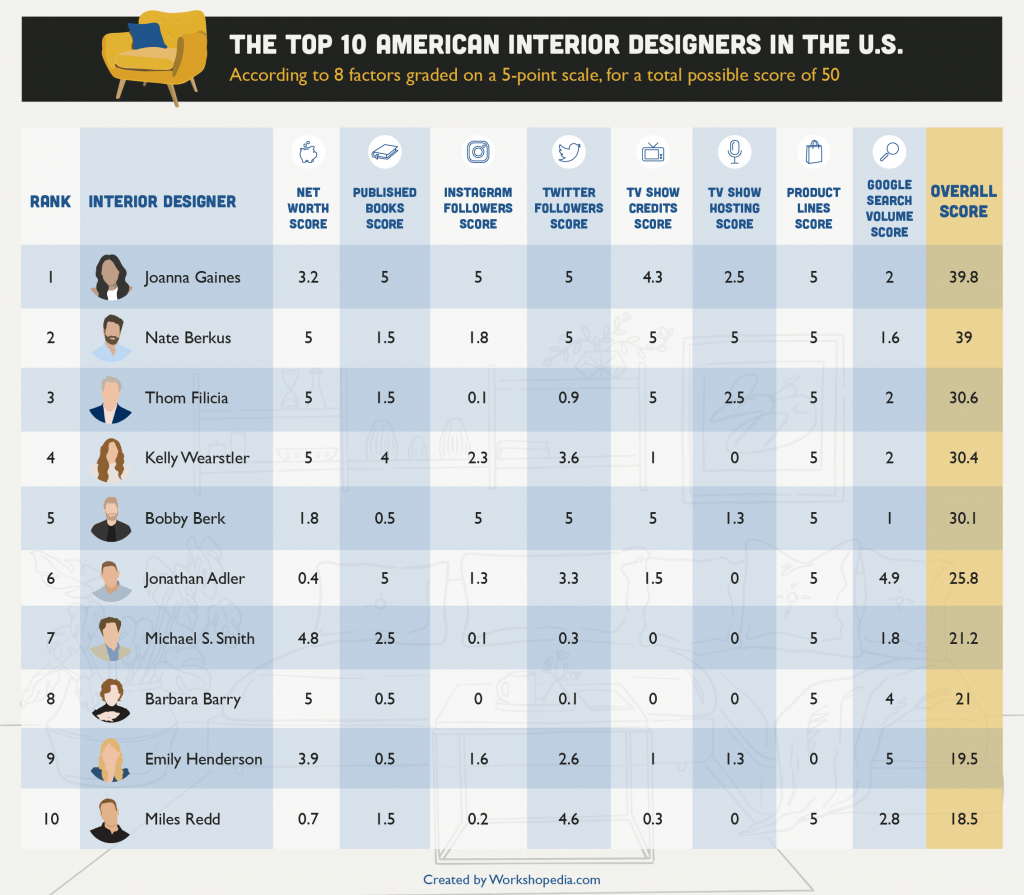 First, we pulled out the top 10 designers in our ranking. It's safe to say that these 10 American designers reign supreme in terms of commercial success and influence in the interior design space in 2020.
1. Joanna Gaines
Unsurprisingly (at least to us), Joanna Gaines took home the title of top-ranked famous interior designer in the US. Anyone who's watched Fixer Upper knows she has a keen eye for detail, she's perfected the popular "modern farmhouse" style, and her relationship with her husband Chip Gaines gives us hope for modern romance.
Plus her kids are flat-out adorable and they make the occasional appearance. Her brand can be found in major retailers like Target, but her style is also attainable through DIY means. It's understandable that people gravitate towards her.
2. Nate Berkus
Nate Berkus came in second with less than a point separating him from Joanna Gaines. With several TV shows and appearances on Oprah, it's no wonder he's doing okay for himself! His book The Things that Matter was a New York Times bestseller, and his media presence keeps him relevant. Just like the Gaines family, his husband Jeremiah works with him on projects and makes appearances on his shows, proving that love exists in our opinion.
There was a relatively wide margin between second and third place, which suggests that Joanna Gaines and Nate Berkus are the most major players in the American interior design world. A lot of that credit for exposure possibly goes to the combination of TV exposure and social media presence.
3. Thom Filicia
Thom Filicia in 3rd place is a very well known designer who was on the original Queer Eye for the Straight Guy series in the early 2000s (so, the original Bobby Berk!) However, his lower presence on social media meant that his score was substantially lower than Joanna Gaines and Nate Berkus. Because interior design is such a visual medium, it's no surprise that pictures and imagery are necessary to stay relevant.
Interested in the full ranking of 21 designers? Check out the table below.
The Most Successful Interior Designers Ranked in the U.S.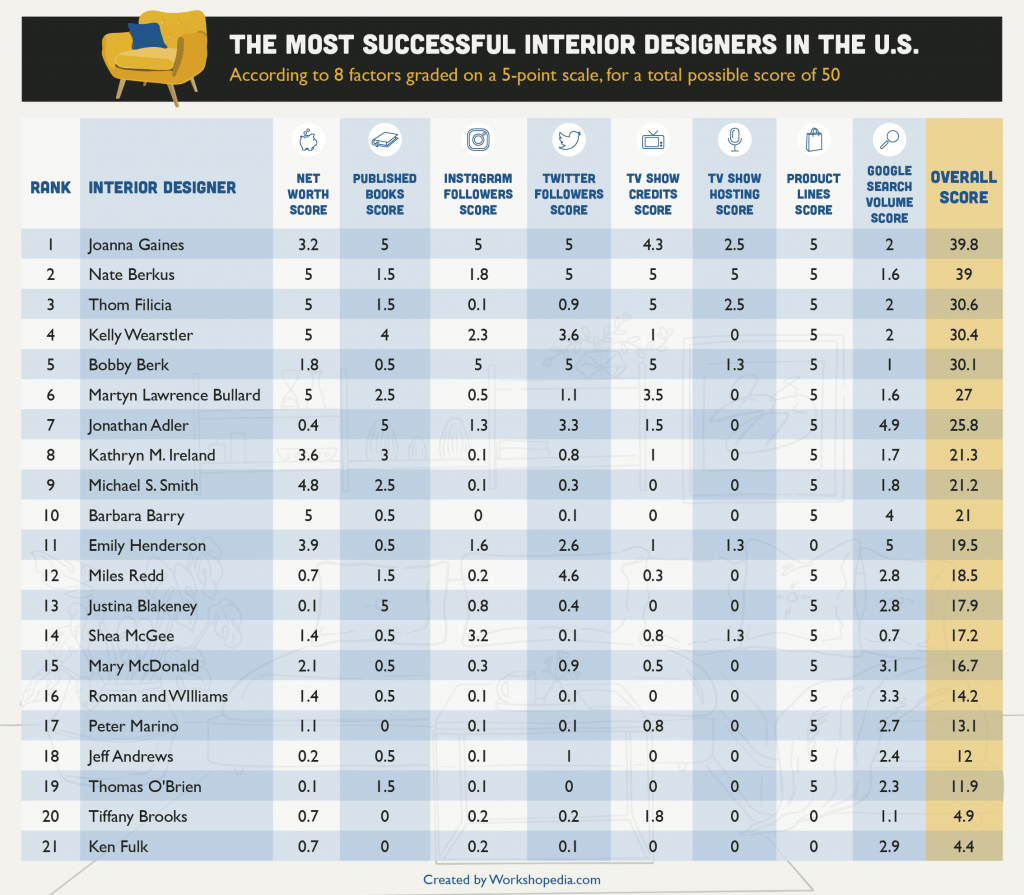 If your favorite interior designer didn't crack the top ten, you can see how they stacked up in the chart above!
Interior design is incredibly subjective, and the more interior designers there are, the more options people have for home decor, which is always a good thing. For this reason, we also included in this chart designers who were born abroad but work primarily in the U.S., such as U.K. natives Martyn Lawrence Bullard and Kathryn M. Ireland.
At Workshopedia, we're huge fans of the DIY scene, but we also love getting inspired by the professionals… and even imagining how Bobby Berk would style our homes! While for most of us, a celebrity interior design consult isn't necessarily in the cards. It doesn't mean we can't put our own skills to the test and have our own "demo day" a la Chip Gaines and swoop in after the fact with a perfectly curated interior design aesthetic.
If you're looking for the right tools for your DIY project, you can check out our available resources here!