The team here at Workshopedia love using glass mason jars. They are great for holding stationery, flowers, or even keeping young plants and herbs in the kitchen! Painting glass mason jars can make them look great on display or as a gift.
How To Paint a Mason Jar
Firstly, collect all the equipment together that is needed. This includes a mason jar, or any similar glass jar or container. The creative material wanted to decorate to mason jars, equipment to apply the material such as paintbrushes, sponges, or your hands to make it more personal. And finally, a cover for the surface can be a bin liner, bed sheet, or doing this outside, to protect your surface as I did this and stained my countertop with paint.
Make sure to clean your mason jar and all equipment before use. If it is dusty or oily then the paint won't stick properly.
Prepare the workspace by laying the covering over the table. Place your materials on the sheet ready for painting the mason jar. Don't forget to ensure the mason jar is prepped with primer if using paint. This is to ensure the paint sticks to the glass.
Now it is time to begin covering your jar. Start by masking off any areas that you don't want the paint to end up using tape. Then apply paint or other effects onto the mason jar. For example, this might be distressing, spray paint, glitter, glue, or coloring.
Leave the mason jar 6 hours to dry after painting. This is to ensure the paint, glue, or spray paint is fully dried so it does not transfer onto other things.
Once fully dried carefully remove your masking tape that helps to get sharp edges. You can now place flowers in the mason jar, pasta in them, use them for decoration, to store stationery or even small plants!
Designs That Are Great As Gifts
Mason Jars are great as gifts, especially if you want to make something that is personal and also inexpensive. We have a few ideas that might help you come up with your own.
House moving party – Paint green with the house number and add a plant inside for that extra touch.
Baby shower – Blue or Pink depending on the gender, plus some cotton balls or cotton pads. Maybe even write the baby name on the jar if you know it already!
Birthday – The classic look, pis a favorite color or style and add on their age. Fill the jar with strips of paper that have all your memories of past events written on.
Anniversary – A cheeky little gift, paint red and mysterious with strips of paper with "I owe you's" for your partner.
Designs for Painting Onto Glass Mason jars
You can paint glass mason jars on the outside of the jars, but you can also paint on the inside too which leaves a shiny glossy glass coat to the mason jar. Depending on the effect you desire with the mason jars determines which side to paint.
Some designs you can play with that look great on mason jars:
Spirals
Tie-dye
Handprints
Stripes
Spots
Splotches
Criss-cross design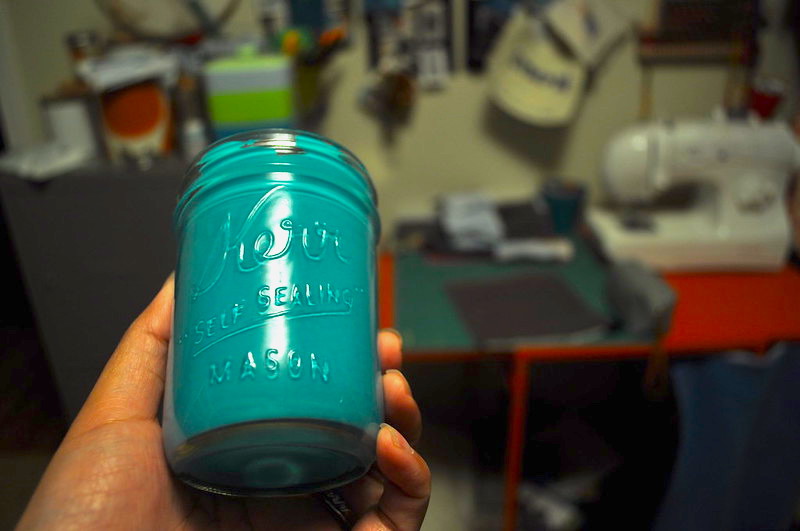 Different Paints You Can Use On Glass
The best paint to use on any glass object is specifically manufactured glass paint. It is long-lasting and has the best shine. Glass paint is designed to allow some light to pass through, also known as translucent. this is great for decorating glassware that you want to be able to see if there is anything inside. Because they are solvent-based it is always worth being in a well-ventilated environment when using glass paints.
Chalk paints are great for precise painting on a glass mason jar if you want small details like labels for jars on food or pasta. This is also great for small details on painted jars, this gives a lovely design.
Acrylic paint is good for creating patterns such as the oceans, create ombre effects, and even portraits. Acrylics are good to overlay and play with the colors until they are dried.
Food coloring is perfect for creating dripping effects on the outside of the mason jar but can also be used on the inside of the jar which is great for a tie-dye effect on the mason jar.
Spray paint is the easiest form to paint the mason jars especially if you want a base color or just to add a layer of color to the mason jars.
Glitter is good for children or for a sparkly accent to a simple design for the mason jars. This is also great for a signature piece to a countertop if the jar is covered in glitter as it reflects light giving a simple but shiny presence.
Uses For Painted Mason Jars
There are many ways you can paint and decorate glass mason jars but there are also many uses for cute mason jars around the house and can be used in many productive ways. They can be used in endless other ways than mentioned so be creative and have fun!
Mason Jar Uses:
Stationary holder
Plant pot
Jar of bucket list ideas
Cotton ball or pad holder
Decoration
Holder for food in the pantry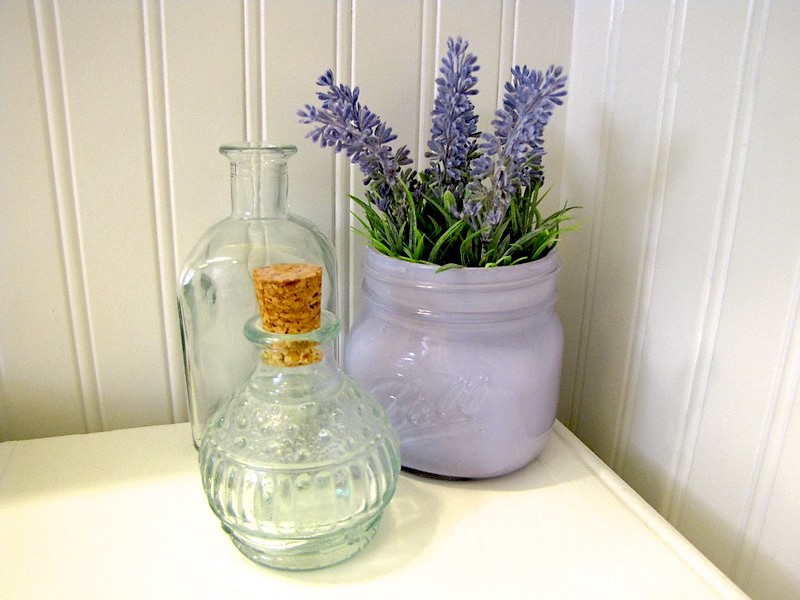 Commonly Asked Questions About Painting Glass Mason Jars
Do You Need Prep Spray For Mason Jars?
No, this is only done rarely and usually is used to ensure the paint does not transfer or chip off over time or with prolonged exposure to heat or sunlight but there are other ways to prolong the paint on the mason jars. this can be achieved by keeping them indoors, away from heaters or radiators or you can spray them with hairspray to seal in the paint to the mason jars.
Do Mason Jars Have To Be Bought Especially?
No, as previously mentioned you can use pasta sauce jars, paint pots, or other containers around the house but mason jars are relatively inexpensive and are a great starting point to decorating jars.
Do they need to look a certain way?
No, they can be as pristine or messy as you would like, this can even be a good idea to do with your child as this is a great activity to do with young children or others.