If you haven't already heard of all the buzz generated from Picnic Table Boats, here's exactly what it is and how to build one. The creativity of man has come a long way, from primal tools that ensure our survival to "what's the best way I can have a beer on a lake with my mates?".
First things first, these things are not very portable as you might have guessed, it is a full-sized picnic table with buoyant contraptions attached to keep it afloat on water. The best way to transport one of these bad boys would be to either use a very large SUV or boat. Otherwise, it's best built and kept at a cabin or getaway home on a lake if you own one.
Are They Legal And Is It Safe?
Well, it is considered a "boat" once you're on it and floating on water. Hence by law, any boat (even a floating picnic table) is required to carry at least one life jacket for each adult aboard and necessary for children under the age of 13 is to be wearing a personal floatation device at all times while on the boat.
This law varies from state to state but you're better off being safe than sorry!
How Much Do Picnic Table Boats Cost To Build?
You can build a picnic table from scratch and probably buy a secondhand one for less than $100. The extras needed to make it float would probably cost you anywhere between $50 to $100 depending on the materials you use and/or have in your existing toolbox and garage.
How Do I Make A Picnic Table Boat?
There are two ways you can make it happen, either build everything from scratch or jazz up an existing picnic table.
My recommendation for jazzing up an existing picnic table would be to find a used but well maintained one online. If you know a place nearby that sells an affordable set, that could work too! After all, you'll be making more than a few adjustments to it.
If you want a challenge, a classic 6ft picnic table can easily be built in a day. All it requires are basic tools like a circular saw, a power drill, and an adjustable wrench. It's recommended that you use treated lumber for the legs and regular pine for the rest of the parts. If painted, pine will last for years!
Pro Tip – There's also an option for you to make the whole thing from redwood if you're thinking of splurging.
So, now that you've made your picnic table from scratch, what's next?
Instructables has a detailed plan laid out to build one of these bad boys ready for the open waters! It includes a sturdy pontoon attached to your picnic table, space for a built-in cooler, and dry storage. The best part? A motor to take you places without lifting a finger!
And if all fails…just buy one from Sam's Club.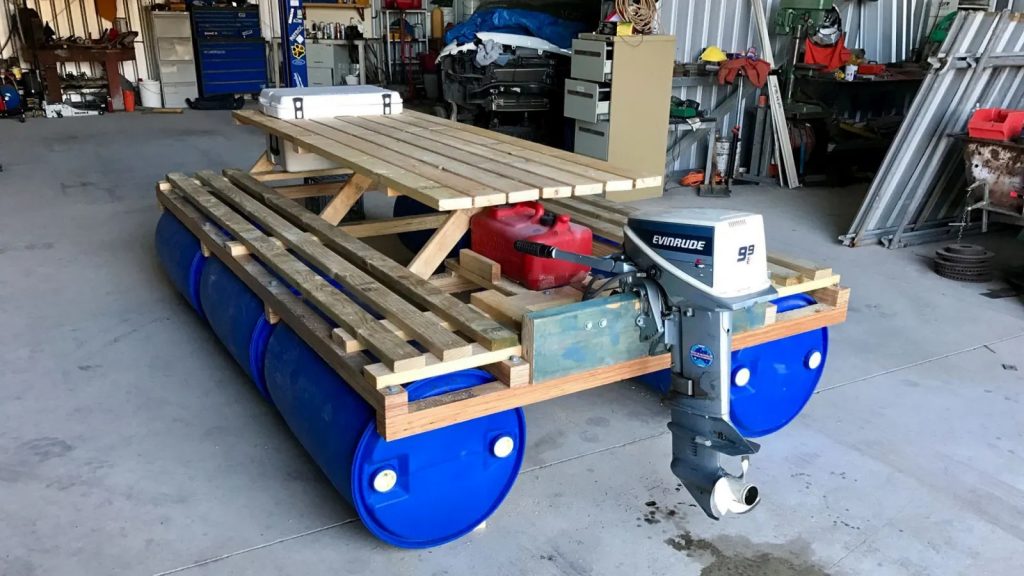 Must-have Accessories For You Picnic Table Boat
Dry storage compartment
Life jacket storage
Cooler box
Cup holders
An anti-slip mat on the surface of the table
A motor so you don't have to physically paddle
The Pros and Cons to Picnic Table Boats
Pros
Cheap alternative to an actual boat.
Wine and dine in style!
An eye-catching contraption.
Good fun for all ages!
Cons
Slightly difficult to get in and out…
If not built properly, could be a safety hazard.
If you run out of food and drinks in your mini cooler, that's it
Best Places To Use One?
We recommend calmer bodies of water, lakes would be the safest.
Lake Tahoe, California
Crater Lake, Oregon
Lake Coeur d'Alene, Idaho
Flathead Lake, Montana
Hanging Lake, Colorado
Newfound Lake, New Hampshire
Lake George, New York
Torch Lake, Michigan
Deer Lake, Minnesota
Lake Chelan, Washington
PSA – Don't get too ambitious and go too deep! and always remember life vests!
So, what do you think? Nothing like a cold beer under the hot sun on a floating table…in a lake!