Secret menu items often don't stay secret for long. With social media channels like TikTok and Instagram, people love sharing their favorite off-menu creations. The famous secret menu item that started it all, dubbed the Pink Drink, was from Starbucks, a strawberry açaí refresher with coconut milk.
While this pretty pink drink not only tasted good, it was also the perfect aesthetic for the 'gram and quickly gained traction, leading to Starbucks finally adding it to their menu in April of 2017. Since then, secret menu items have continued to circulate through Starbucks patrons and we set out to find the most popular ones in each state.
Methodology
We used a list of 29 Starbucks secret menu drinks and recorded Google search data from over the last 12 months for each of the 50 U.S. States and the District of Columbia. Using that data, we determined clear winners for the most popular Starbucks secret menu drink in each state, and which drinks reigned supreme overall. Read on to see what Starbucks secret menu drink is the most popular in your state!
The Most Popular Starbucks Secret Menu Drink in Every U.S. State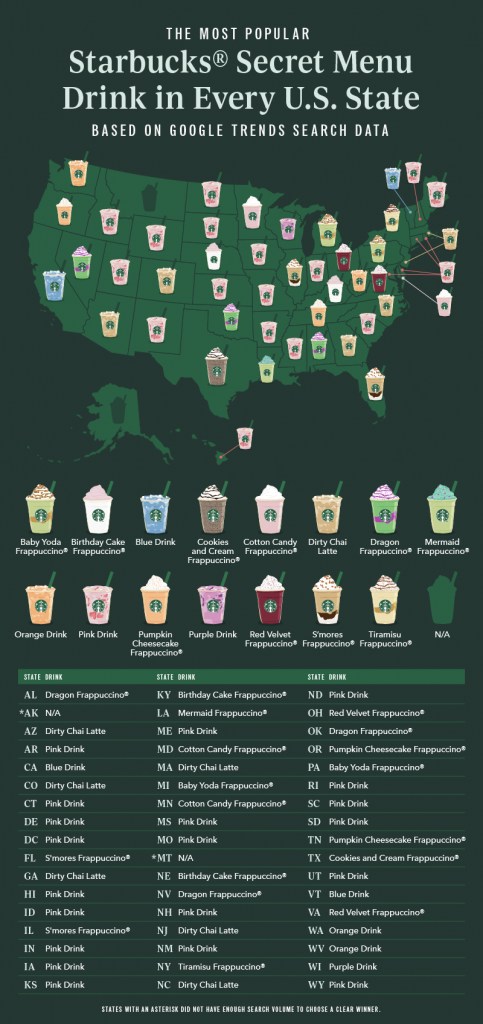 Do you have a sweet tooth? Why not have a dessert in drink form? Skip the hassle of having to actually buy the ingredients and spend a few hours prepping and baking, when you can simply drive down the street to your local Starbucks and purchase a drink that tastes just as good as cake.
There are a few states that clearly love a sugary treat. Ohio and Virginia get their sugar fix by ordering a secret menu item that has a name that makes their mouths water, the red velvet frappuccino. If it tastes just as good as a cream cheese frosted red velvet cupcake, we want one too! And New York has similar taste buds with their favorite secret menu item being the tiramisu frappuccino. Yum!
Tennessee and Oregon are down to celebrate fall all year long with the pumpkin cheesecake frappuccino, by adding cinnamon dolce syrup, vanilla bean powder, and white mocha syrup to a cream-based pumpkin spice frappuccino.
There are thousands of ways to customize a drink at Starbucks, from creating your own or simply swapping out the milk in one that's already on the menu. Following suit of the pink drink, color seems to be a popular choice when customizing a drink. Washington and West Virginia have experimented with the orange drink, Wisconsin with the purple drink, and California and Vermont with the blue drink. Now we need to just create a red, yellow, and green drink to perfect this rainbow lineup.
Putting a spin on a classic like a chai latte has also become popular. The "dirty" in the dirty chai latte got its name from simply adding two shots of espresso to a regular chai latte which is normally a tea-based drink. Georgia, Arizona, Colorado, Massachusetts, New Jersey, and North Carolina all crave that extra caffeine kick in their drinks by choosing the dirty chai latte.
The Top Starbucks Secret Menu Drink Overall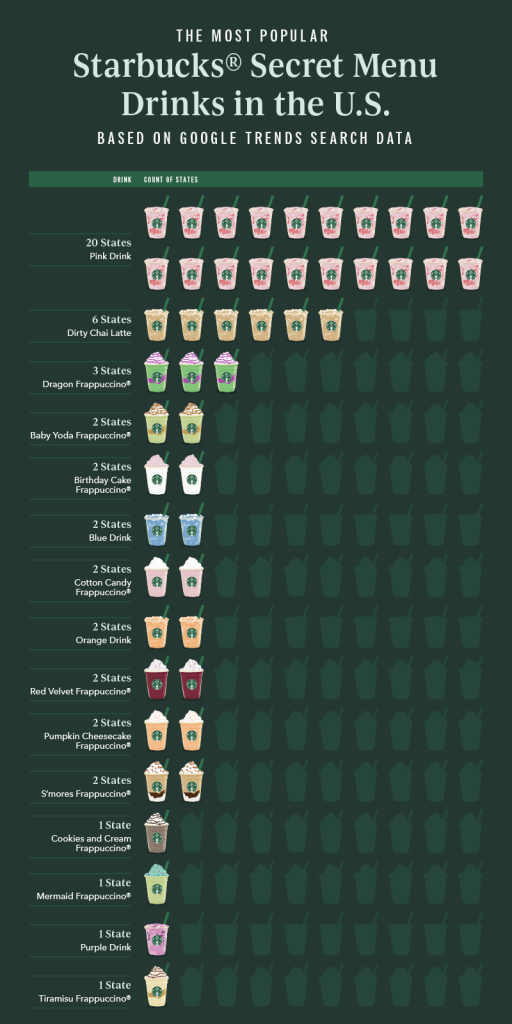 The Pink Drink still holds tried and true in 20 states, with the Dirty Chai Late coming in second with six states. Popular flavors like birthday cake and cotton candy have been turned into frappuccino drinks for four states. There is a variety of other secret menu drinks like the Baby Yoda Frappuccino and Mermaid Frappuccino that have been brought to life in three states, and a handful of other states each with their own unique most popular secret menu drink.
Final Thoughts
There's a saying, if it ain't broke don't fix it, and that's certainly the case with the Pink Drink. While the lineup of Starbucks secret menu drinks has certainly grown, to this day the famous Starbucks Pink Drink is still the most popular secret menu item across the U.S. Now if you are feeling caffeinated with your favorite secret menu drink in hand, maybe you should start a new DIY home project. Why not? You have the energy and we at Workshopedia have all the tips you need!