A fire pit is a great way to add a feature to your garden. They are also very useful, especially as the weather gets colder in the fall and winter. Many people don't know what they're looking for when they go to buy a fire pit for their garden. It can be overwhelming, with a lot of choices available.
If you're looking to buy a fire pit, you've come to the right place! In this article, I take you through the 5 major things you should consider when looking to buy one. When broken down, it is a relatively simple decision. This could really enhance your garden, so read on if you're interested in finding out more.
What Is A Fire Pit?
A fire pit is exactly what it sounds like: it's an area that you can use to build a bonfire in your garden in a managed way. They can be all sorts of different sizes. Typically, they are round, but I have seen some brilliant rectangular and square ones too. You can use them for keeping warm, keeping bugs like mosquitoes away, or cooking. Who doesn't love toasting marshmallows on a campfire?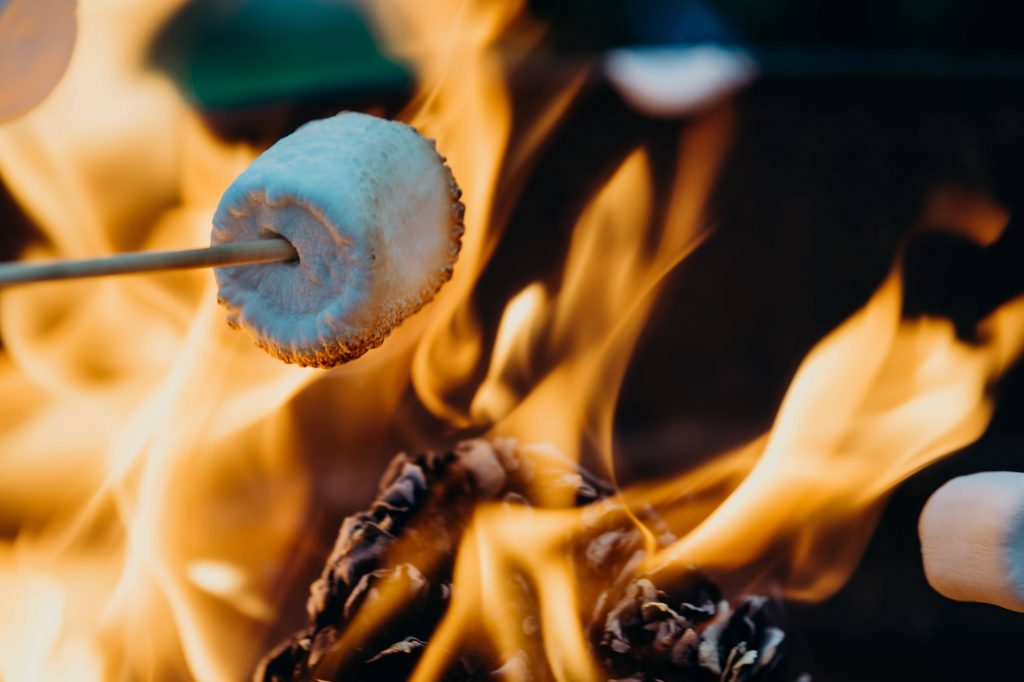 Some people build their own fire pits. These are often at ground level or build into the ground. They can be great, however, many people prefer to buy a ready-made version for their garden. If you've decided building one isn't for you, then you're in the right place. There are a handful of things you need to think about when looking for the perfect fire.
Top 5 Things To Consider When Buying A Fire Pit
Now we're getting into the important bit of this article. These are just 5 of the main things you need to think about when buying a fire pit. There are, of course, more things you could consider. However, these are the most significant.
1. Fire Pit Design & Materials
First, you need to think about the design you want and what it is going to be made of. As I've already mentioned, you can dig a hole yourself and make a fire pit using bricks or stones. However, you can buy a range of cool designs and styles. Many are basic metal bowls but you can also get elaborate models made of stone that integrate things like drinks coolers.
In terms of materials, pick something that will take a lot of wear and tear. This is especially the case if it is a permanent fire pit. Cast iron is heavy but wears well. Aluminum is least likely to rust. Copper stains easily. Many fire pits are actually enhanced by their wear, so think about the type of look you're going for.
2. Cost
Next, set a budget. As we always emphasize, having a budget for any kind of home reno or DIY project is important. This is no different. Many fire pits are relatively affordable coming under the $300 mark. You can pay a lot more, however. Custom designs in more expensive materials can cost an arm and a leg. Think about what you really need and budget accordingly before searching for the perfect pit.
3. Types Of Fire Pit Fuel & The Law
Third, the type of fuel you'll be using is important. Wood is wonderful for that campfire feeling but it does leave a lingering smell of burning on clothes and hair. If you want something authentic, this is ideal. It's also more appropriate for cooking or toasting marshmallows. You can also get natural gas pits which are better for sheltered locations with a roof. They can also be installed on a deck more safely than with wood, which you have to avoid on a wooden deck.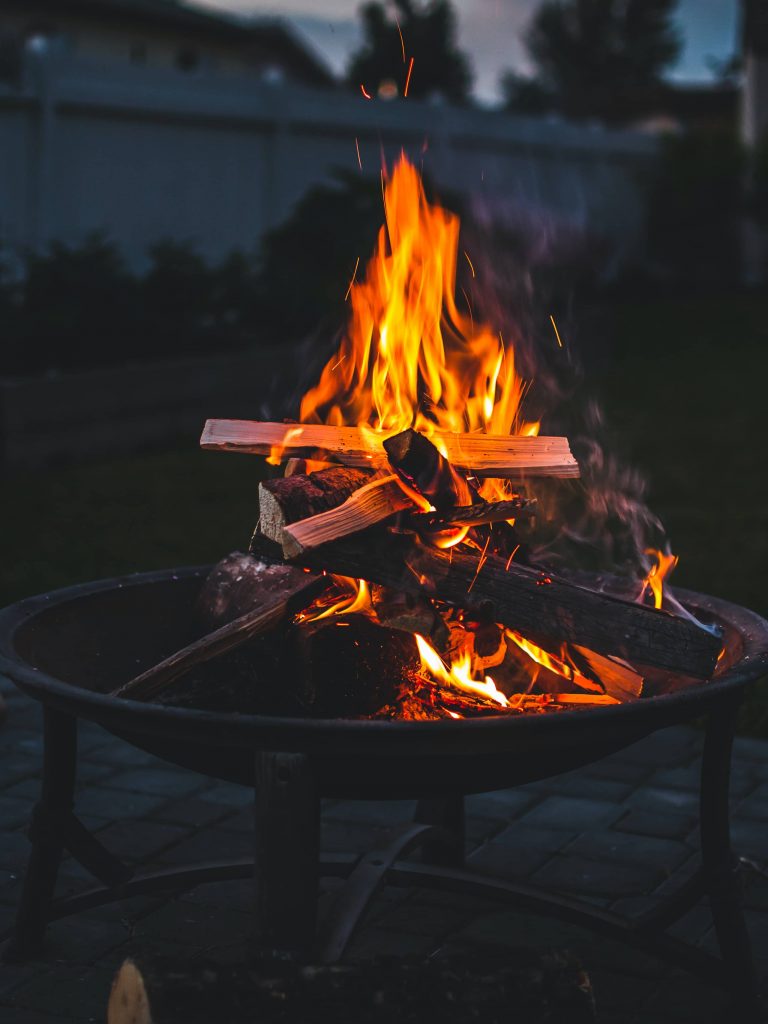 Also, think about the law in your area. Woodfire pits can't be used in covered areas or anywhere they could start a bigger blaze. Check restrictions on garden fire pits with your local authorities. Look into public safety campaigns to do with wood burning, including those by the EPA.
4. Location & Permenance
Once you've been through the first 3 considerations, you need to think about the location you're putting your fire in. Think about where it will be convenient and well-used. You also need to consider if it will be a permanent feature or something you can pack away. This will impact the design you pick and where you choose to have it.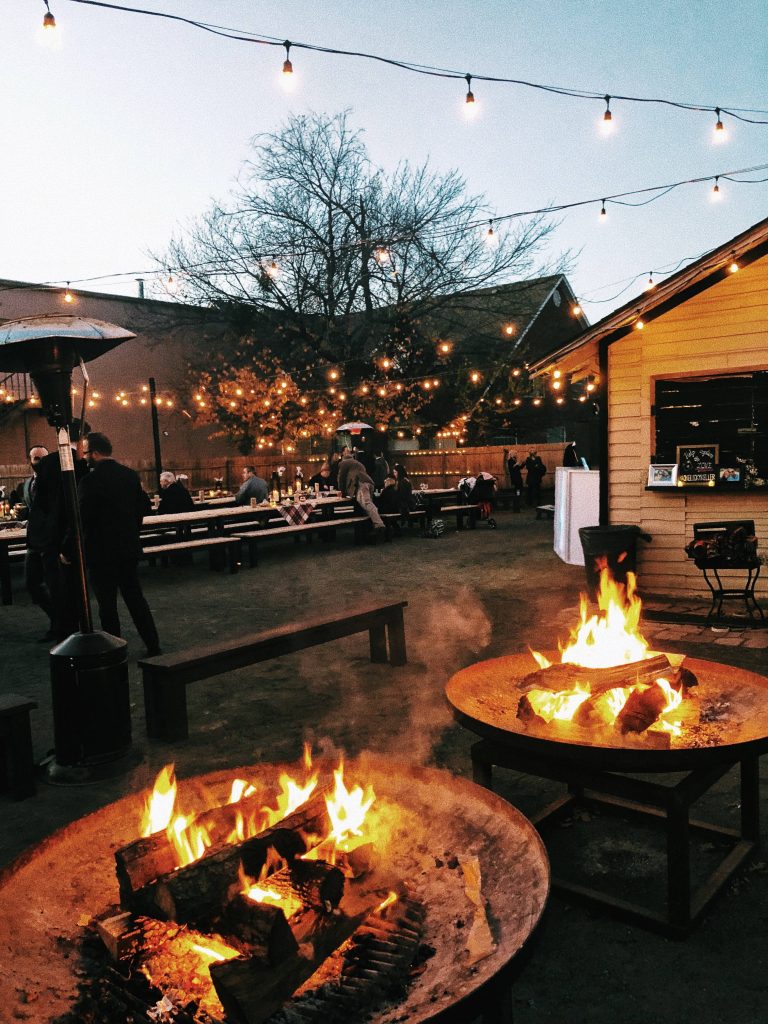 This point brings us to the importance of safety.
5. Safety
Fire pits can be dangerous. Kids and pets should never be left alone with fires. You should also consider the height of the fire, as low-down pits can be a danger for kids, pets, and older people. Practice good fire safety at all times. Additionally, as I've explained, the location of your fire pit matters. If it is wood burning, put it in an open, well-ventilated area away from anything that could catch alight.
Conclusion
The things you need to consider when buying a fire pit for your garden are therefore quite simple. Ultimately, it's a garden feature with plenty of practical applications. So, think about what will look best and what you will use most!