Creating your dream bedroom can be a challenge, especially if you're stuck on ideas. Even though visitors might not be seeing it that often, you definitely will be, so it's important to get the right room features. Whatever your tastes, the beauty about the bedroom is that it can be personal to you.
How To Start Creating Your Dream Bedroom
So where to start? Well, with any dream bedroom a specific theme will always work, so consider your hobbies or interests. As you grow older however you might prefer a certain style, such as minimalistic or contemporary, compared to a themed room. Whether it be a certain theme or a particular style, deciding what to aim for will help you along the rest of the way.
It can be a bit tricky to make a final decision on this, but it's not all bad news. Whatever theme or style you go for, there a few improvements/renovations you can make to your bedroom no matter what. This means that creating your dream room doesn't have to be as stressful as it is.
The following list discusses the top 10 ways to create your dream bedroom that anyone can do. They don't have to conform to any particular style or theme and are simple tricks to get your bedroom looking like what you have in mind. Let's get started!
Art And Prints As Room Features
This might seem like an obvious one, but the addition of art or prints to your bedroom can really strengthen its aesthetics. Any artistic room feature brings a creative feel into your bedroom, but sometimes this can be a bit too theme-specific. Therefore, consider buying some prints that are simple yet eye-catching, without being too specific.
When choosing prints, consider the color theme you want and the size. Larger prints look odd in small rooms, but small prints can look very minimalistic in big rooms. Colored prints are also theme-specific, so black and white is a reliable color scheme to stick to.
By getting the right size print with the right color theme, you can make your room look that bit more attractive. To keep it even more generic, consider prints that have writing on them instead of pictures, as this is less specific to the bedroom. Wall hanging prints are more ideal to save room, but they also fill the walls up and therefore fill the room more.
LED Lighting
Whilst the fairy lights may be a necessary feature of any college dorm, it doesn't mean they don't make a good feature. LED lighting brings comfort to your room that you don't achieve with normal lighting. The range of colors available also allows you to pick what mood lighting suits you best.
Consider some lighting with different settings, such as flash or dimmed, so you can change it up every now and then. Buy some LED lighting on a long wire instead of a lamp to get more choice of where to place them. Reliable LED lighting doesn't cost much more than $15 in most home stores, so it's a cheap but effective feature.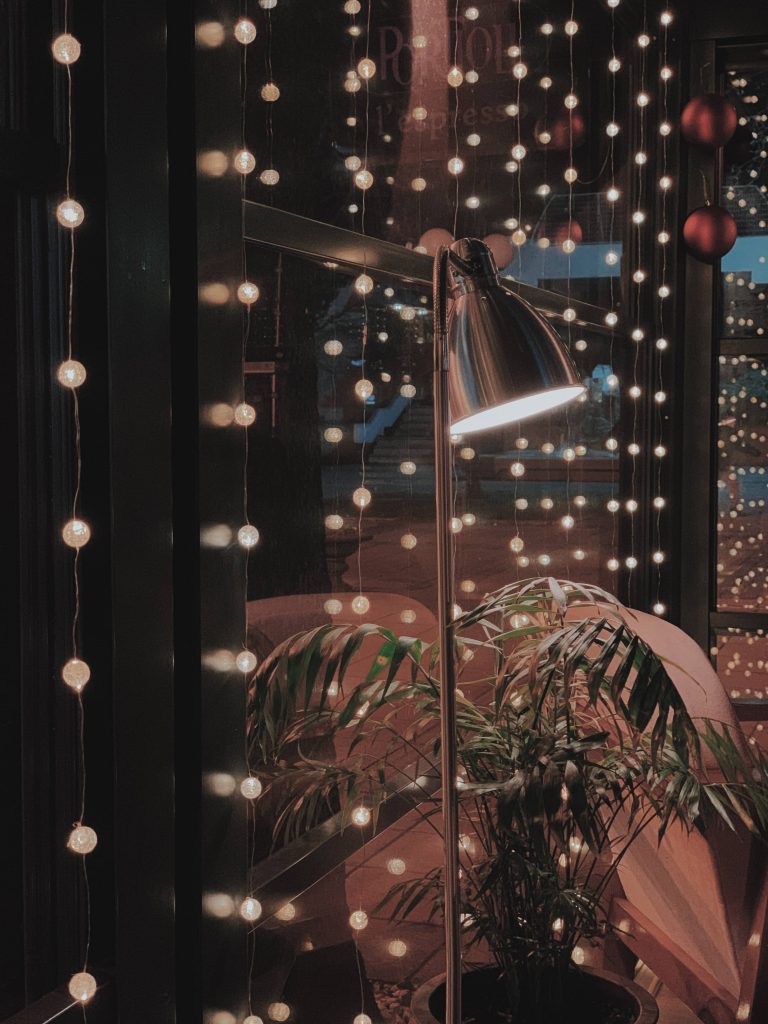 Notice Boards Room Features
Not the most obvious choice, but a notice/memo board works perfectly against a desk or next to the door. Not only does it help you stay organized, it fills the wall space similar to wall prints, making the room feel less empty. Most notice or memo boards are made from wood, so they can bring a natural feel to your bedroom.
If you have work to be doing they're perfect, but if not, they're a great spot for photos or daily reminders. Choose a board with wood such as MDF for a smoother look, as some made from wood such as OSB look cheap. Consider boards that aren't too big either to keep things compact and tidy.
There's plenty available online, but our choice would be the Boardsplus felt notice board.
Shoe Racks
This might seem like it would fit downstairs better, but it helps keep things tidy. A small shoe rack that can hold 4-6 pairs of shoes is a useful storage feature for any bedroom. Let's face it, it makes the room look better without sneakers lying around everywhere.
Consider a small, wooden shoe rack that will fit by your door. Go one step further and paint it a dark color too, as light colors get messy easier. Don't let it take up too much room though and keep it compact.
Above the shoe rack is also a great spot to place a notice board!
Shelving
Now, this is a feature commonly found in most bedrooms. However, there are a few tricks to making shelving look right in your dream bedroom.
Firstly, consider what you want to put on the shelves. If you have a few bits of memorabilia or trophies, then a single wall shelf above the bed would work perfectly. If you have books or DVDs that you need to store, then larger shelves are necessary.
Larger shelves can either be wall-mounted or placed upright on the floor. Whichever you go for, remember that wall-mounted shelves save space but cannot hold as much weight. Consider how much you're wanting to store and choose the right size shelf for you.
Wall-mounted shelves need to be perfectly straight, so use a spirit level when installing. If they're above the bed, really make sure it's sturdy enough and secured onto the wall properly. Don't overload the shelves too, as this can look untidy.
Once you've got your shelves right, they make a great room feature for any dream bedroom. By putting your own accessories/items on them, it brings a personal feel to the room too.
Plant Décor
Not only is it a great decorative touch, but plant decor can really brighten up your bedroom. On top of this, it brings a natural feel to the room and freshens things up a bit. Plants work in the room no matter what theme or style you choose, you just need to remember two things.
Firstly, the vase/pot you use for your room should be light in color to match any theme or style. This also means attention will be drawn to the plant instead of what you've placed it in. Make sure it's big enough to hold the plant-you don't want soil over your carpet!
Secondly, large plants should be in a pot or vase on the floor to be most effective in the room. Smaller plants work great on a bedside table or desk, or if you need space, hanging from the wall. If you take these points into account, plant décor will really enhance your bedroom.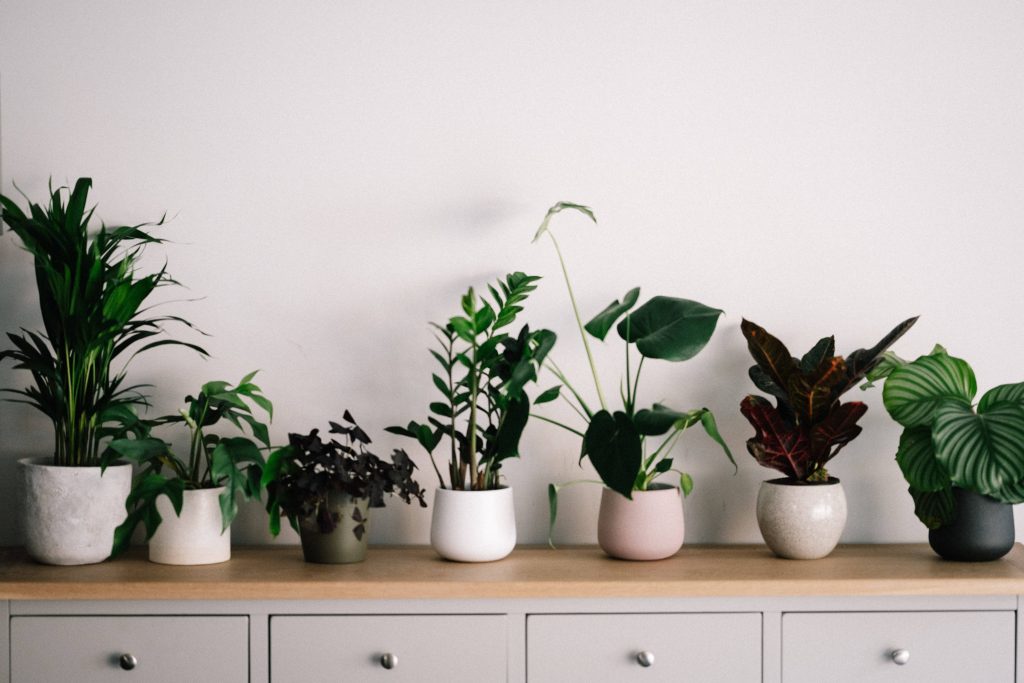 Check out our guide for the top 5 low maintenance houseplants for ideas!
Mirrors
Whether you hang it or rest it on the wall, mirrors are a great feature of any bedroom. They also don't cost too much and are commonly sold, so it's an easy room feature to add to your bedroom. Mirrors can also make the room look bigger if placed correctly, so mirrors really do have their benefits.
Firstly, consider the size of the mirror you want. Smaller rooms benefit from smaller mirrors, but larger mirrors work well in any room despite the size. If you have a spare corner, a freestanding mirror is a great touch.
No matter where you put your mirror, they make great hosts for LED lighting!
Rug Or Carpet Room Feature
As a feature for your carpet, rugs fill the floor space and bring a comfortable feel to the room. Rugs come in various sizes, so no matter how limited you are for floor space, there's one for you. Make sure to pick a lightly colored feature if you have no chosen theme or style.
When it comes to size, simply don't pick a feature too big. You don't want to cover most of your floor so you cant see the carpet. A small rug at your bedside or a larger rug next to your bed's footboard works perfectly.
Desk Lamps
Although LED lighting makes a great feature, nothing beats a simple deskside lamp. A small lamp feature, when you hide its wires, works well as a room feature no matter what the theme. Whilst standing lamps work well too, they're not as generic as desk lamps, so are better for themed rooms.
Pick a desk lamp that is ideally light in color and uses a simple bulb. If it's a bedside lamp, make it match with the color of your bed to create a consistent color theme. If it's for your desk, make sure it's not too big that it takes over your desk.
Bed Blankets As Room Features
It might be a cozy feature for your bed, but a bed blanket is a simple aesthetic piece for any bedroom. It brings a comfortable feeling to the room and looks like you've made an effort into keeping it tidy. Bed design is an essential element of creating a dream room. Blankets can be big or small. It's entirely your choice.
If you have a chosen theme or style, blankets can be tailored to suit it, but it's not vital. As long as the blanket works with the bed then you're good to go. Place the blanket at the end of the bed, ideally hanging over the sides, for it to work in the room.
Conclusion
Now you know the top 10 tips for creating your dream bedroom, you might know where to start. These 10 room features work in any bedroom and are simple enough to add. Whilst most are certain items or accessories, they aren't too expensive and are found in most home-based stores.
If you still need some inspiration, check out our Top IKEA hacks for some simple ways to spice up the bedroom. If you live in a flat and some of these options aren't possible, check out our Top 10 renter-friendly interior design hacks.