Introduction
One way to make your house feel alive and colorful is by getting houseplants for the kitchen. Houseplants can be kept all over the house. However, some are ideal for your kitchen. Most people spend a lot of time in their kitchen and so want it to look and feel as homely as possible. Houseplants are a great way to achieve this.
It can sometimes be tricky to know which houseplants work well in certain spaces. But don't worry, we're here to help!
In this article, I take you through our top 8 houseplants for the kitchen. My top choices are durable, useful, and aesthetic plants to make your kitchen bright and attractive. Read on to get advice on which houseplants to pick for your kitchen!
Herbs – Practical Houseplants For The Kitchen
You might not have room for an outdoor herb planter or full herb garden. Or you might not like the effort herb gardening requires. Using herbs as houseplants is the ideal way to avoid hassle when growing herbs. Plus, they'll keep you stocked up for cooking and add a fresh touch to your kitchen!
1. Basil
Basil is a super easy herb to grow at home. That makes it perfect as a houseplant for the kitchen. It needs quite a lot of light, either from the sun or a bright lightbulb. Additionally, basil is an essential cooking herb. If you love to cook, having basil growing in your kitchen year-round is ideal. Make sure you have the right growing conditions for basil to thrive.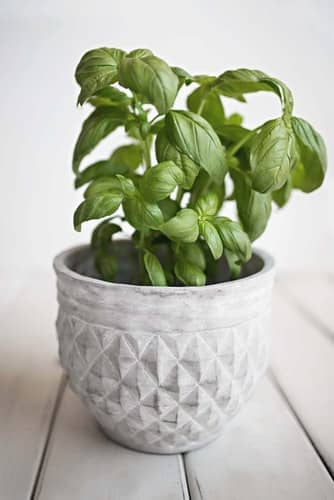 2. Chives
Chives are another cooking essential that makes a great houseplant. They grow indoors quite easily, though make sure they have lots of sunlight for around 6 hours of the day. Water regularly and make sure the soil is drained well. You can use the leaves for cooking, such as on eggs. Chive flowers are a bit different from other herb flowers, for example, those found on mint. Using the blossoms from chives for cooking is a great trick that not many people know about.
Succulents
Succulents are generally low-maintenance, pretty houseplants for the kitchen. They're very popular at the moment. This is because they're easy to care for, come in lots of sizes, shapes, and colors, and they don't overgrow easily. So, we've got 3 here that are ideal for your kitchen.
3. Zebra Haworthia – A Unique Houseplant For Your Kitchen
These stripy little succulents are fun plants to brighten up any kitchen worktop. There are several different types of Haworthia. However, the Zebra Haworthia is quite unique for its white striped leaves. They're very easy to care for and non-toxic. This is great if you have pets who like to chew on houseplants.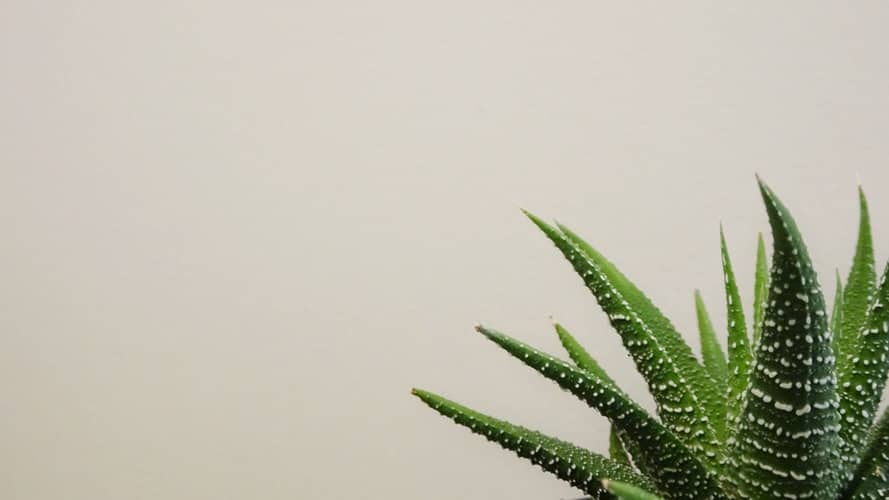 4. Aloe Vera
As one of the most common houseplants for the kitchen, Aloe Vera is a staple for a reason. Similar to the Zebra Haworthia but able to grow a lot bigger, Aloe Vera is both pretty and practical. The gel from the leaves is super handy if you burn your skin whilst cooking.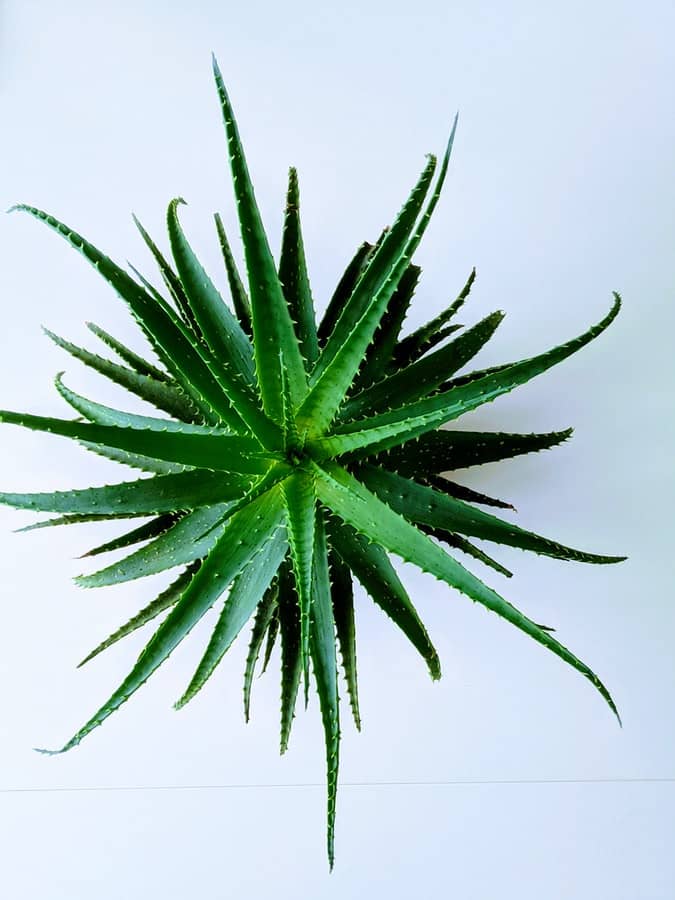 5. Christmas Cactus
You might not have heard of a Christmas Cactus, but they're brilliantly unique houseplants. Although the leaves stay green year-round, Christmas Cacti bloom around Christmas every year. It's in the name, after all. You can get flowers in all sorts of colors: red, white, pink, yellow or purple. They're beautiful kitchen houseplants that are quite straightforward to care for.
Leafy Houseplants For The Kitchen
If herbs and succulents aren't really your thing, you might want a more leafy houseplant in your kitchen space.
6. Spider Plant
Spider Plants are very cheap houseplants for the kitchen which grow to be very big. They like moist soil and indirect sunlight. This makes them ideal if your kitchen doesn't get direct sunlight all day. They're simple to care for, and can be propagated into lots of new plants quickly.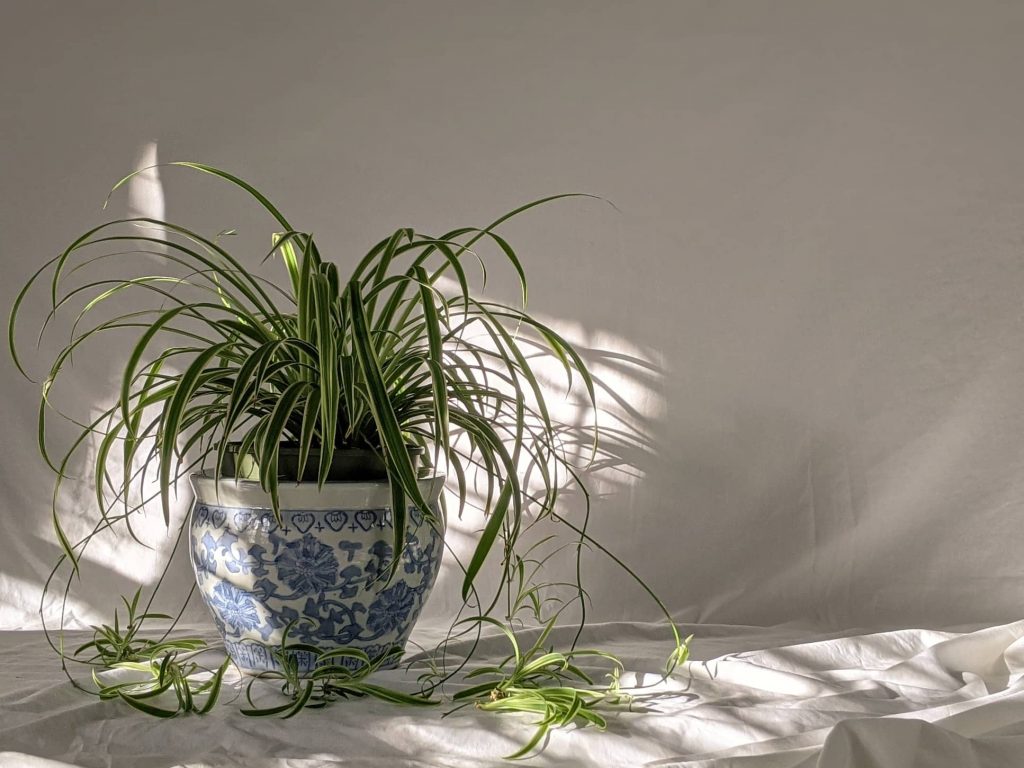 7. Snake Plants – A Tough Houseplant For The Kitchen
Snake Plants are also another common houseplant which you can't go wrong with. They're very tough and durable. They can be kept small in pots on the kitchen surface. Or, you can grow them big in pots on the floor for more stand-out kitchen features. They're also very easy to care for. If you're prone to killing your houseplants, this one is for you.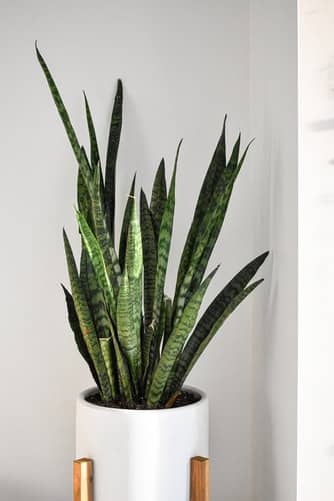 8. Peace Lilies
Finally, Peace Lilies are another ideal houseplant for the kitchen. They aren't too complicated to look after. You can grow them from seed if you want, and they're great at cleaning the air of the room they're in too.
Conclusion
So, there are some great choices if you want houseplants for the kitchen. Our top 8 houseplants cover lots of different plant types and have a versatile range of aesthetics and uses.
Some houseplants are easier to care for than others. You should base your choices on how much time and patience you have to look after your houseplants in your kitchen. If you want some other plants around your house which don't require much maintenance, check out our article on 5 low maintenance houseplants as well.