Introduction
Outdoor lights are beautiful and a great way to add some brightness to your garden. There are plenty of amazing ways to use them. It all depends on the type of space you have, and the impact you want to create.
In this article, I take you through 5 different ways to use outdoor lights in your garden. This covers everything from wrapping trees to using individual lights around your garden borders. First, I'll give a little rundown of the types of lights you can get. Let's get started!
What Types Of Outdoor Lights Can You Buy?
There are a lot of different outdoor lights at home stores and online. It can often be hard to know what to buy. The type of lights that you need will depend on what you're planning on doing with them.
Most fairy lights will do the job for the ideas I cover in this article. You can get them in battery-powered, plug-in, or solar-powered types. I recommend fairy lights that plug into the mains, as they are safer when you have a specific outdoor wired plug. They also last longer, and you don't have to change the batteries often. If you have a garden that gets good sun, solar-powered is a great option. Just be warned: they aren't always as reliable in the colder months when the sun is less strong!
For individual lights, solar-powered are great. They can be easily moved around, require no wired connection, and don't require a change of batteries. There are plenty of great outdoor light options in both string and individual form.
5 Uses For Outdoor Lights
So, here are 5 different ways you can use your outdoor lights to spruce up your garden space!
1. Wrap Outdoor Lights Around Trees
First and most obviously, string fairy lights are perfect to wrap around trees. This elegant and simple option is a great way to light up your garden. It makes use of natural features and turns an ordinary tree into a glowing spectacle. You will need long strings of lights if you plan to wrap a big tree or whole tree.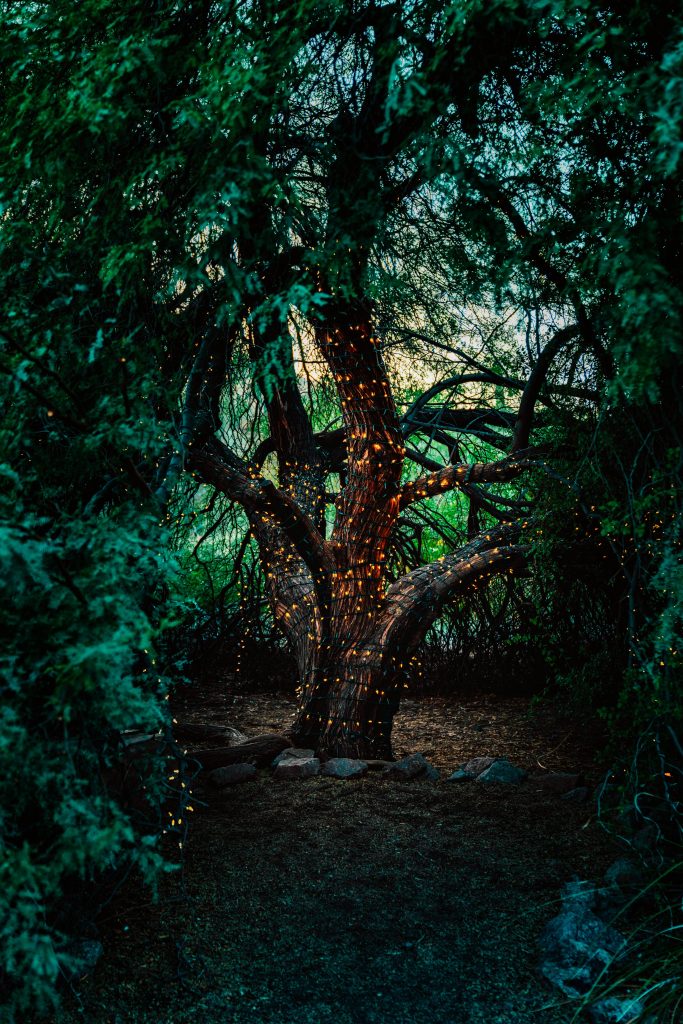 Additionally, you can also wrap lights around other plants: you aren't just limited to trees! Why not try wrapping outdoor lights around a cactus or succulents? Bushes or hedging is also a great option for adding a light feature. You have so much choice with this use for garden lights.
2. Create A Fairy Light Ceiling
Next, you can create a fairy light ceiling using outdoor lights. This is a brilliant idea if you have a deck or patio area that you can cover from one side to another in strings of lights. It's perfect for making a beautiful and functional feature above a dining or seating area.
Wired lights are best for this feature, and you'll need a long string – or maybe several. This is a popular option for lighting outdoor weddings, but why not incorporate it into your garden space for an extra special touch!
3. Light Up Your Garden Borders
Third, using smaller individual solar-powered lights, you can light up your garden borders. This is simple, inexpensive, and useful. Get some solar-powered lights you like, and place them at regular intervals in the flower beds or vegetable patches around the edges of your garden.
This outdoor light idea allows you to light up even the darkest corners of your garden. It's perfect for being able to see your space in the dark. This is an especially great idea if you have pets that wander around at night, like dogs or cats. Use this feature on a landscaped garden to add some practical elements whilst making it look better too.
4. Decorate Your Deck
We've already got an article on how to decorate your deck on Workshopedia. However, this is worth a mention. Outdoor lights are a great way to add a feature to your deck or patio area without too much expense.
As already mentioned, you could create a fairy light ceiling to spruce up this space. You could also wrap string lights around plant pots. You could even use mason jar lights placed around a seating area, or add some individual solar lights in pots or borders near your deck.
5. Light Up The Background
Finally, you can use outdoor lights to add some background interest to your garden. Similar to wrapping trees or adding lighting to your deck, lights can also be used to decorate a boring wall, fence, or trellis.
This is a great idea to put a light feature behind a seating area. You can also use it on your outdoor house walls to decorate plain brick. It's simple, yet also effective!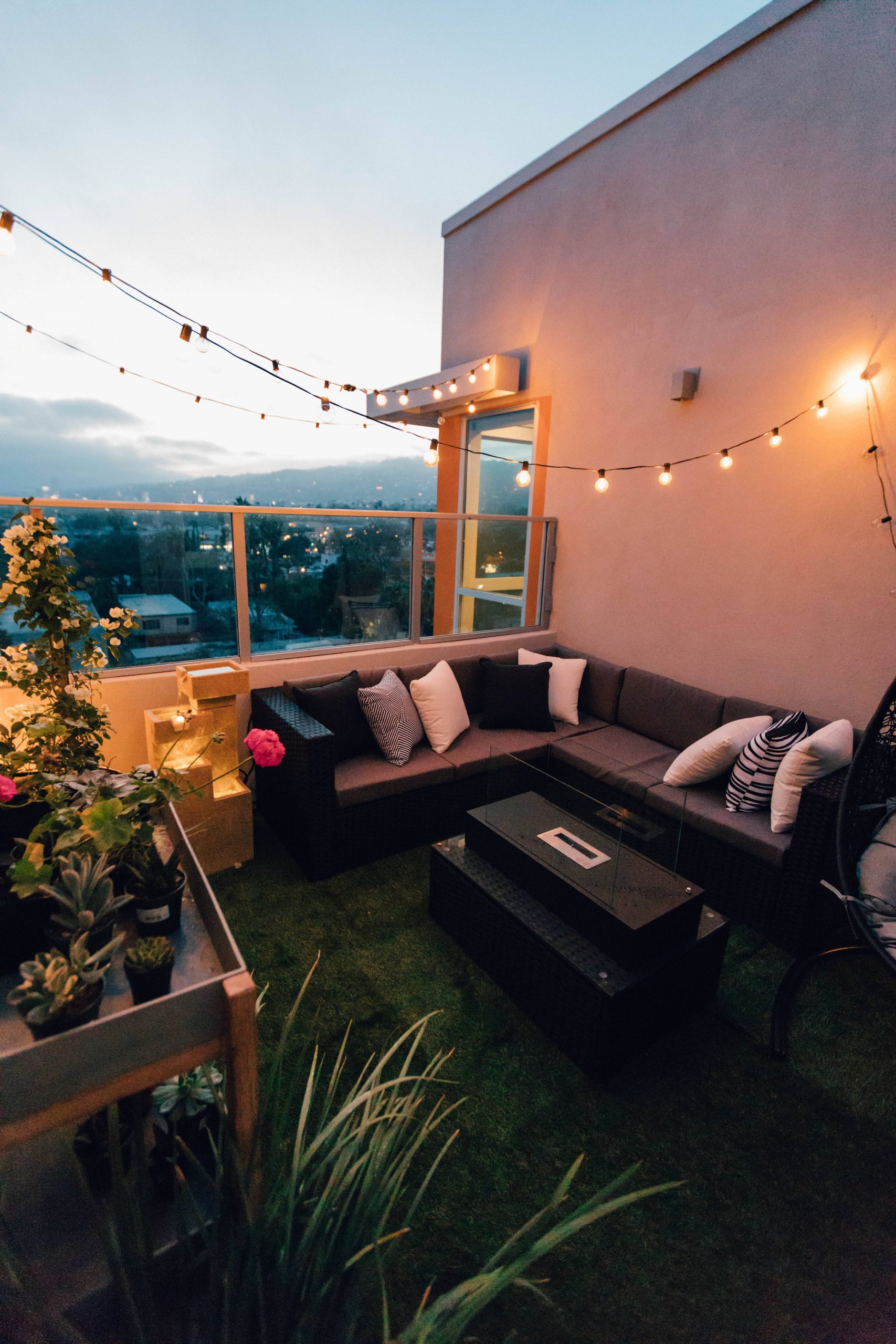 Conclusion
As you can see, there are so many uses for outdoor lights in your garden. Although some ideas may require a large number of lights, these projects don't have to be expensive. You can get cheaper and more expensive options, so it can really suit your budget.