Introduction
There are so many amazing kitchen trends that have come out of 2021. We've already got articles on kitchen interior design. We've covered all the typical worktop and backsplash materials, and how to decorate with a range of houseplants. However, we've not yet approached trends beyond painting kitchen cabinets.
In this article, I talk you through the top kitchen trends of 2021 for you to spruce up your space. First, I'll give you a rundown of why thinking about trends is important for kitchen design. Then, I'll get into the good bit: the biggest 2021 trends which will carry you fashionably into 2022 as well. Read on to get some amazing kitchen inspiration!
Why Are Kitchen Trends Important?
Many people say that the kitchen is the heart of the home. It's such an important space as typically, it serves many functions. It is used for everything from cooking, to dining, to a family room. It is also a great space for parties and gatherings. With more homes being open plan these days, the kitchen is even more so the core of the house than ever before.
Interior design is therefore really important, as it can make or break this important space. That's where kitchen trends come in. You should always design your interiors to suit your style and needs. Following trends isn't always advisable, especially when there are so many each year. However, sometimes trends can give you the inspiration to do things you never thought of. They're a great way to elevate a key room in your home and can be an enduring part of your decor for years to come.
Kitchen Trends For 2021
Now you know why making your kitchen spot on with the latest trends is important, we can jump into the 5 best ideas!
1. Colorful Everything
First up, color is making a comeback for 2021 into 2022. We've already seen the huge popularity of painted kitchen cabinets, as discussed in our kitchen interior design article. We also know the impact of a brilliant hand-painted feature wall. However, it's not just cabinets (which you can make look amazing with colorful chalk paint, by the way) that are getting a splash of color this year. Designers are painting cabinets, walls, and surfaces in bright, contrasting colors. Adding features like chairs, decorative items like pots and vases, and tiles in different hues brings contrast and excitement.
Alternatively, bright colors might not be your thing. In this case, deep, moody tones are also a big kitchen trend for 2021. Dark colors like black, deep reds, purples, and blues add drama and atmosphere to your space. Why not try something a little different?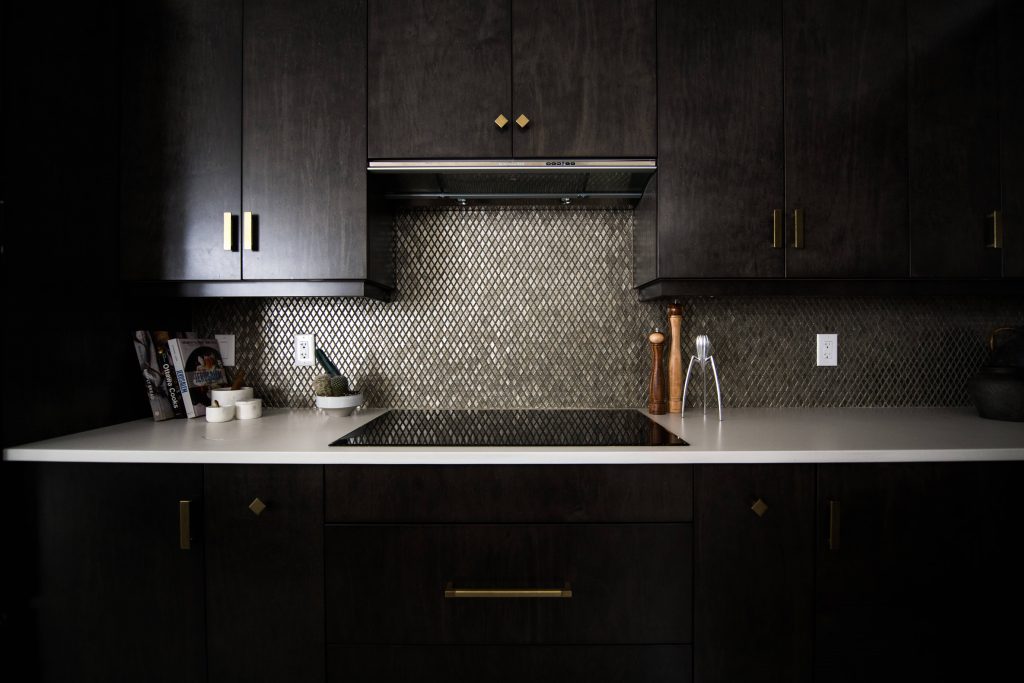 2. Sustainable Style
Next up, sustainability is so in style right now. Making your kitchen an eco-friendly space is a popular way of doing your bit for the environment, whilst also being on top of the current kitchen trends. You can do everything from making sustainable swaps to regrowing your own vegetables from scratch.
If you want to go even further, you can incorporate sustainability into your kitchen's interior design. Using reclaimed materials including tiles, sinks, wooden flooring, and furniture is a great way to participate in this trend.
3. Concealing Clutter – A Huge 2021 Kitchen Trend
Third, minimalism is in this year, and the kitchen is no exception. Hiding away all of your kitchen appliances and clutter to create a calm, tidy space is popular at the moment. It creates a sense of peace and order within a world that seems to always be getting busier. If you can make your bathroom feel like a spa, why not make the kitchen into a sanctuary too?
You can opt for kitchen cabinets with lots of storage, integrate appliances into the cabinets, and hide any leads with clever design and adhesive putty. Have minimal decor on your worktops, and bring out appliances and utensils as and when you need them.
4. Statement Lighting
Statement lighting is another brilliant 2021 kitchen trend that you don't want to miss. Gone are the days when the only options you have are uninspiring lampshades or simple LED downlights.
Big pendant lights in cool shapes and colors are brilliant for adding interest to your space. Add floor lamps for a more intimate, homely feel. You could even play around with neon signs for a more quirky vibe!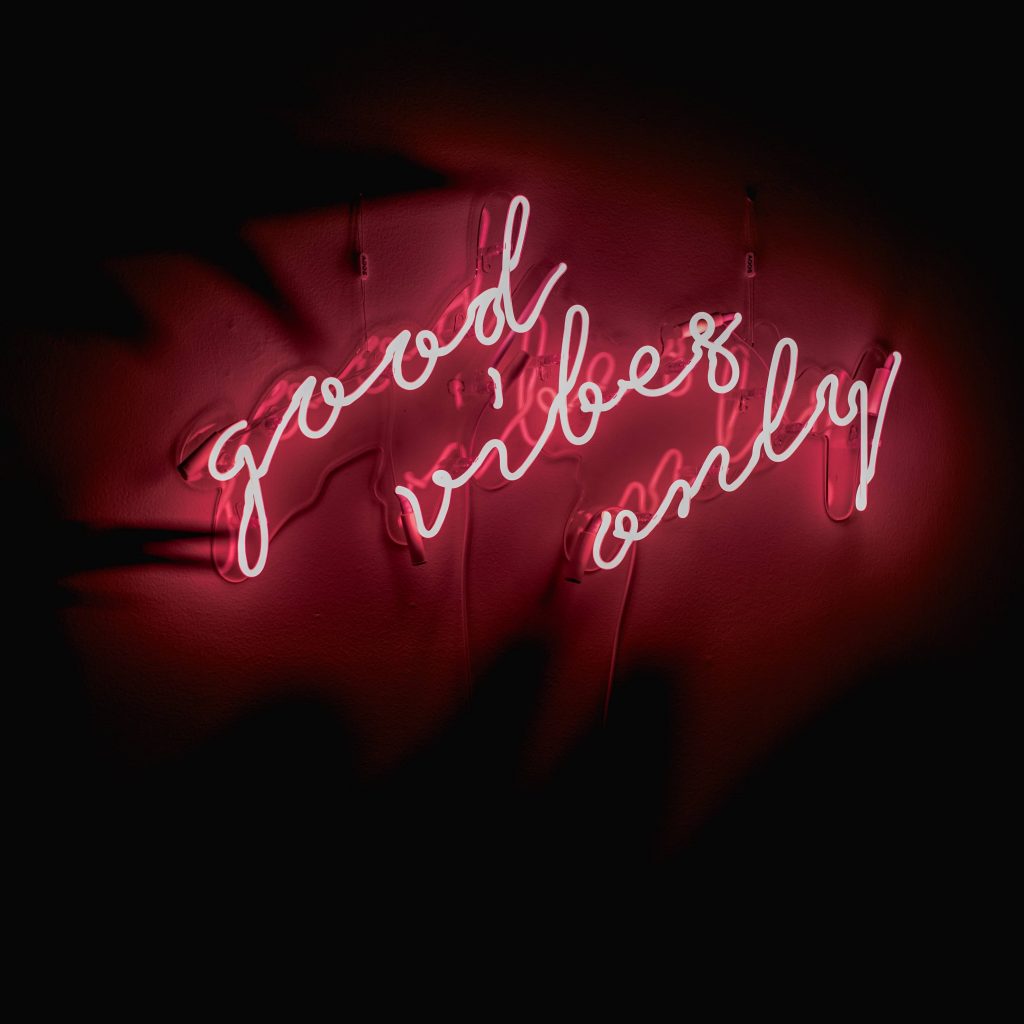 5. Metallic Finishes Are A Big 2021 Kitchen Trend
Finally, metallic finishes are another big kitchen trend for 2021. Whilst everyone's seen the standard silver-colored kitchen faucet and cabinet handles, other metallic finishes have typically been ignored. Brass, gold, and black metals also look amazing in matte finishes. Shiny copper is another finish to check out.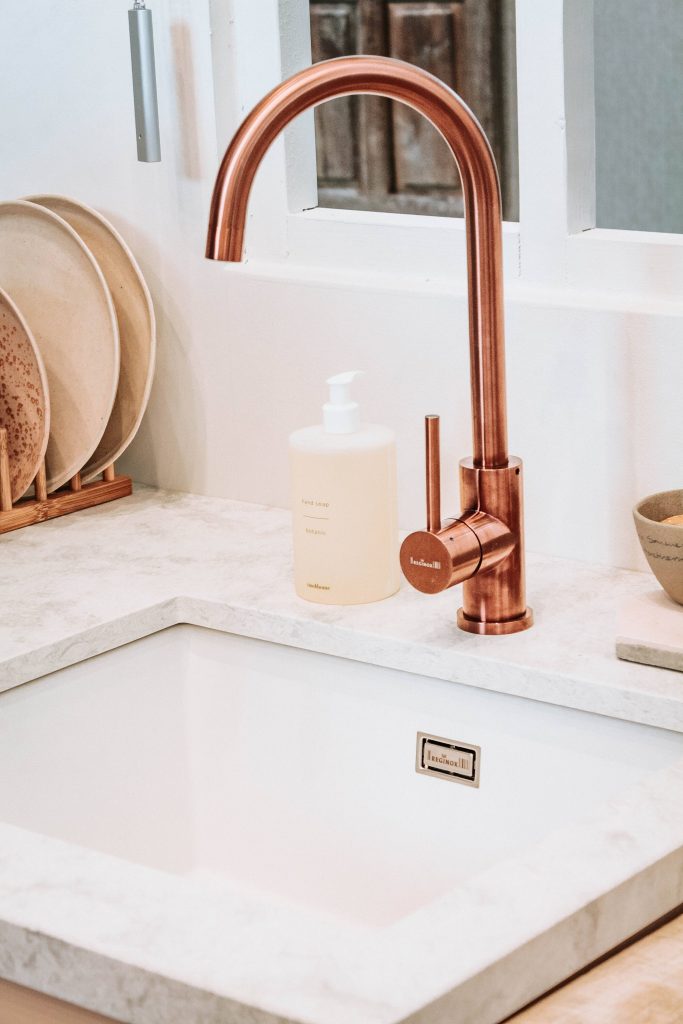 Metallic finishes really elevate the feel of the room, also bringing in a touch of class and sophistication. This is certainly something to try if you're all about style in your home!
Conclusion
So, there are plenty of kitchen trends for you to try in 2021! Just remember, the kitchen is often the most important room in the house. Make sure to work with the trends you truly love to create a beautiful space that also feels right for you.